Forget the much-mourned Woolworths' pick'n'mix counter,'The Vintage Sweets Book' offers enough saccharine treats to put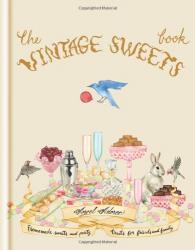 Willy Wonka out of business. As author Angel Adoree agrees, sweets have the potential to turn everyone into the proverbial kid in a candy store, irrespective of age, ethnicity, or flavour persuasion.
And none more so than the sort of retro delights that have recaptured the British imagination; seeing us fritter away pounds- rather than pennies-worth of spare change in the myriad emporia that line the high streets, their names all of the dubiously-spelt'Olde-fashioned Sweete Shoppe' ilk. Let's face it; as a nation, we like tuppeny chews more than we like the teeth we chomp'em with.
We also have a (fondant) fancy for a bit of Vaseline-smeared nostalgia; preferring our photos Instagram-filtered and our crockery chintzy. So, with'The Vintage Sweets Book', Angel's made a delight. However much you battle the Cath Kidston-ification of the kitchen, you'll be hard-pressed not to fall for this book. You may be bitter, but it's a sweet surrender.
Angel's not only got a way with a wine gum; she's also a talented illustrator. The doodles scattered throughout'The Vintage Sweets Book' like so many sherbet pips may be whimsical, but when it comes to prose, this lady's head is mercifully candy-floss free. It's not easy to instruct amateur confectioners how to make the sort of complex candies on offer here; but Angel's directions are as solid as seaside rock.
Her methods are just as marvellous concerning the crafty projects she proposes – sweet boxes made from hollowed-out books; homemade scratch-cards; leather tea-cup cosies. The spirit of vintage thrift is alive and well in Angel's world – and if it's austerity that underpins the creative cocktails using sweets from the rest of the recipes, then perhaps a triple-dip (dab) recession has its merits.
You might not be earning much moolah, but you will earn major brownie points if you give someone a copy of'The Vintage Sweets Book' for Christmas. For best effect, present it paired with a packet of their best-loved bonbons; better yet, rustle up a sweet little selection of your own from the book. Whether they prefer pistachio nougat or Parma Violets, jellies or jazzies, this is the full dolce vita.
Beware – even if the pages stay miraculously free of sugar-spatter, once you dip into'The Vintage Sweets Book', you probably won't want to part with it. Keep cooking and just order another.  After all, Christmas surely calls for your homemade sugar mice, Turkish delight and buttered Brazils. And it's only right to road-test the recipes, lest you give someone a gift that falls short of the mark.
But mark my words,'The Vintage Sweets Book' exceeds expectation on all fronts. It's beautifully styled and photographed; well-informed and fully indexed; and achieves'quirky' without inducing queasiness. It's the cookbook equivalent of a selection box as it oughta be;'all killer, no filler'. All in all, a rather sweet feat, I think you'll agree.