Every so often a book comes along that you wish you'd penned yourself. Not only that, it IS the book you'd have penned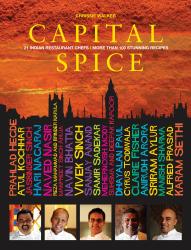 yourself. Most of the time it's authored by someone you have no qualms resenting for their sheer audacity at nicking the concept, but Capital Spice's creator, Chrissie Walker, is just too damn lovely for me to hold any grudge.
Held in high regard amongst London's foodie Indian elite, Walker has a friendly manner and a pleasing humility. Capital Spice is a labour of love, gathering together 21 of the city's top Indian chefs and disclosing the recipes that have punters flocking through their doors. For the slightly nerdier reader (i.e. me), the lengthy bios are both welcome and fascinating- who knew, for instance, that Peckham's Ganpati had Claire Fisher- a Western woman- at the helm?
Capital Spice features a good mix of the high end- Cafe Spice Namaste, Cinnamon Club, Tamarind- and the more accessible, everyday joints. It's a treat to be able to knock up Dishoom's staple comfort food-supreme, Pau bhaji, or Imli's snack-y potato cakes, tikki ragda, and handy to be able to roll out the big guns like Zaika's chicken momoes or Benares' Kolkata-style lamb rump for Right Posh Dinners at home.
The extensive use of game on Indian menus will be a revelation to many- despite the ban on hunting across the subcontinent since partition. Nonetheless, we're well into the best of the UK season- so recipes such as Star of India's venison escalopes, Moti Mahal's partridge pickle, Trisha's coastal-spiced guinea fowl, Cinnamon Kitchen's tandoori squab, or even Cafe Spice Namaste's Ostrich Tikka for the more exotic ranger.
There's plenty to tempt, but equally much to inform. And I like that in a cookbook. Pretty pictures are all well and good- and Capital Spice has these in spades- but I like to know the whys and wherefores of my grub. I'm often allured by restaurant books positioned prominently at the entrance, but the slight schizophrenia of this one has particular appeal. It's a bit like the Toys'R'Us of the literary world-'there's millions (of recipes), says Chrissie, all under one roof'…
Okay, not quite millions. But certainly a more-than-decent selection covering the entire subcontinent- from Ma Goa's fiery, Portuguese-tinged dishes, to Quilon's colourful Southern cuisine and the rich Northern opulence of Dockmaster's House. For me, knowing a bit more about the faces behind the food makes it all the more satisfying- and knowing Capital Spice's restaurants  are right on my doorstep is more satisfying still. Yeah, I'm a smug Londoner- but if I wasn't, Chrissie's book would be the perfect introduction to the city's Indian abundant riches.
Chrissie Walker is the editor of www.mostlyasianfood.com
{ISBN:1906650721}