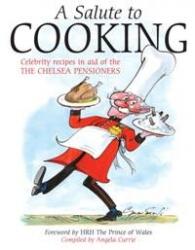 The Royal Hospital Chelsea, home to the famous, scarlet-coated Chelsea Pensioners, is to publish A Salute to Cooking, a brand new recipe book which has a front cover designed by satirical cartoonist, Gerald Scarfe CBE, a foreword by HRH The Prince of Wales and more than 100 favourite recipes contributed by a fantastic parade of celebrities from all walks of life. On sale from 14 October 2009, (rrp £14.99), A Salute to Cooking, can be ordered from the Royal Hospital Chelsea website (www.chelsea-pensioners.org.uk) and will be sold in the Royal Hospital shop in the grounds of the Royal Hospital Chelsea.
Celebrity contributors include:
Joanna Lumley, 'Take a large amount of the nation's favourite people, stir in delicious recipes – result – a wonderful cook book."
Gordon Ramsay, 'One of the highlights of my year is entertaining the Chelsea Pensioners in my restaurant and having the honour of treating them to Christmas lunch. In buying this book you're supporting a wonderful cause."
A Salute to Cooking has a recipe to suit any occasion and every level of culinary expertise. From Boris Johnson's down-to-earth Cheese on Toast and James Blunt's Pizza Supper, through the Duke of Edinburgh's BBQ'd Grouse Stuffed with Haggis and Joanna Lumley's Sephardic Orange Cake, to Anton Mosimann's sumptuous Fish Cakes and James Martin's White Chocolate, Whisky and Croissant Butter Pudding.
The perfect Christmas or birthday gift for foodies, occasional chefs and even those who don't know their skillets from their saucepans, profits from A Salute to Cooking will go towards the Chelsea Pensioners' fundraising campaign to transform the current living accommodation (windowless, nine foot square 'berths') into modern study bedrooms with en-suite facilities more suited to the standards of the 21st century.
A Salute To Cooking has been created and compiled by Angela Currie, wife of the Royal Hospital Chelsea's Lieutenant Governor, Major General APN Currie CB. Angela explains: 'The Royal Hospital is a unique institution and we wanted to produce a book that reflected the wit and special character of the place and of the Pensioners. I have been overwhelmed by the support we have been shown – from those who already knew about the Royal Hospital and its fundraising campaign, to those who are hearing of it for the first time. Everyone who buys this book can be confident the proceeds are going to an extremely good cause."
Charles McLaughlin a Chelsea Pensioner says, 'We are thrilled that so many well-known people have shown such commitment to support the Chelsea Pensioners and the fundraising campaign through the cookbook."
The Royal Hospital Chelsea was founded in 1682 to care for old and injured soldiers. Today it is home to some 300 Pensioners, men and women, providing then with a stimulating living environment. Veterans are eligible to become Chelsea Pensioners if they have served as soldiers in the British Army, are over 65 years old, and have nobody dependent on them. On entry they surrender their military pension and any War Disability Pension they may have. The average age of Pensioners is 83.
The Royal Hospital Chelsea launched the Chelsea Pensioners' Appeal in 2004 to fund the biggest development campaign in the Hospital's history:
Phase I saw the building of a new infirmary, The Margaret Thatcher Infirmary, which was opened on time and on budget in March 2009.
Phase II is now underway. This will provide 34 modernised study bedrooms with en-suite facilities and the completion date is April 2010.
Phase III is to complete the renovation of the old living accommodation and it is this which is the focus of current fundraising activity.
For more information on The Royal Hospital please visit www.chelsea-pensioners.org.uk
978-1-903071-25-0
Publication: 14 October 2009
Price: £14.99
Published by: Bene Factum Publishing Ltd