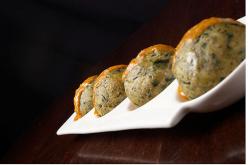 Mint Leaf, the London restaurant, has collaborated with Britain's youngest and most highly qualified chocolatier to create an inspirational Chocolate Week Menu in aid of The Sick Children's Trust.
Mint Leaf Lounge & Restaurant, now led by new Head Chef Dhayalan Paul, has teamed up with 17 year old chocolatier Louis Barnett to create a menu that these culinary experts describe as a 'story of taste". From Braised Pork Belly with onions caramelised with ginger, green chilli, curry leaves, 60% dark chocolate and cocoa nibs to Chocolate Savrin with Black Cardamom and Grapefruit Foam, all dishes are designed as an exploration of flavour.
Featuring cocoa in every course as well as in the specially prepared drinks that accompany each part of the meal, Mint Leaf offers a Chocolate Week Tasting Menu. There will also be an additional individually priced table menu with a choice of starters, main courses and desserts. The dishes make excellent use of seasonal ingredients.
Running throughout Chocolate Week (12th-18th October), the dishes will be priced from £8 each, with 10% of all orders made on the Chocolate Week Menu going to The Sick Children's Trust. At Mint Leaf Haymarket, a special cocktail has been created for the occasion.
This exciting and unusual combination of Indian cuisine and chocolate promises to create an exceptionally memorable dining experience as well as benefiting huge numbers of sick children and their families.
The Sick Children's Trust runs seven 'Homes from Home' at major hospitals around the country where families can stay free of charge, for as long as they need whilst their child is undergoing treatment. There is a growing demand for our 'Homes from Home' as children must increasingly travel long distances to get the specialist treatment they need. In essence, The Sick Children's Trust ensures that the very basic of all medicines has a chance to work; family love and support.
To date we have helped more than 30,000 families. To run our 'Homes from Home' we rely entirely on voluntary donations; and need to raise nearly £1million this year to keep them open.