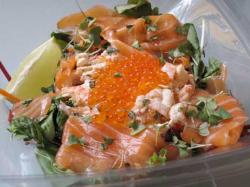 If you're working withing striking distance of Selfridges then how does a Caviar, smoked salmon and crayfish salad for £8.50 sound?
Yes it sounds a bit pricey. But hang on, this is very much a luxury lunch and we should know because we ate one. Those fancy ingredients don't come cheap and the salad maker is generous. There was plenty of all the expensive things, well balanced with tenderly cooked salad potatoes, a crisp and spicy salad and even a couple of lime wedges to squeeze over the top. Try getting all that in a High Street chain, the one whose name we know as 'Cold n Wet' in rhyming slang.
Visitors to Selfridges Food Hall can now enjoy the Chop'd healthy 'fast food' offering -a creative range of fresh, tailor-made warm and cold salads using seasonal ingredients and designed to create more options to conventional salad; as well as complementary soups and breakfasts.
This is the latest branch of Chop'd stores around London which all sell favourites like Jerk chicken salad with hand-made jerk rub, baked sweet potato and sweet mango dressing plus create-your own salad combinations from a base of house leaves, pasta, rice, noodles, couscous or new potatoes with a choice of three items out of 21 vegetable options and one deli item from 16 choices.
Chop'd' ready to go' salads start at £4.00 and 'create your own' salads are £5.50.Other store locations include Leadenhall Market, Canary Wharf, Curzon Street, St Pancras, Spitalfields andHigh Holborn.