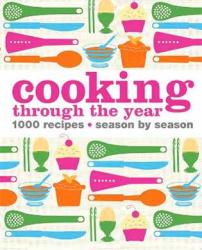 Containing no fewer than 1,000 recipes and organised first by season, then by course, Cooking Through the Year aims to provide a one-stop reference to help cooks understand which meats, fishes and vegetables are in season at any given time of the year, and to provide wholesome, simple recipes to make the most out of them.
Despite the tendency of supermarkets to stock produce year-round, cooking using ingredients at their seasonal best affords two major benefits. Firstly, as the produce is at its most abundant, prices are at their lowest. Paying attention in this arena will therefore save money.
Secondly, the produce is often grown or reared locally, using Mother Nature as the primary catalyst in its growth. Out-of-season produce is often grown abroad, frozen, and shipped hundreds of miles, resulting in lacklustre flavours and colours, or grown in greenhouses and liberally showered with pesticides at the crack of every dawn. Using ingredients in their prime, then, will give better flavour to your dishes.
The recipes are diverse, in terms of cuisine and course, with everything from hearty mains to decadent desserts. The mackerel roasted with harissa and potatoes will make an impressive main when entertaining guests. The home-made chicken doner kebab, meanwhile, will be sure to put a smile on the face of any man that tries it, without the associated guilt and psychological self-flagellation that would occur were its takeaway equivalent to be purchased after a heavy night on the town.
Other recipes to whet your appetite include mushroom ketchup, smoked mackerel pate, Moroccan harira soup, chilli jelly as well as a veritable smorgasbord of jams, conserves, tarts, broths and pies. This book has everything covered, with a dazzling and diverse range of recipes – every corner of the globe, every possible course, every type of ingredient – Cooking Through the Year will allow you to make use of them all.
The book is illustrated liberally throughout with clear photographs, and contains sections explaining how to prepare certain ingredients, such as fish or mushrooms, for cooking. If you don't feel like cooking by season, a handy index lists all of the ingredients featured and all of the dishes that incorporate them.
When cooking some of the recipes, we found that the quantities and times had to be adjusted in some cases, though cooks with a modicum of experience will very quickly be able to adjust these variables accordingly. This is, however, a minor quibble with an outstanding publication. If you're looking for a one-stop authoritative guide to making the most out of your food year-round, or want a single, definitive book for guidance, this is it.
{ISBN:1409384098}