As I run a hand over the pretty paisley-printed endpapers of this padded, patterned tome, I'm already a little bit in love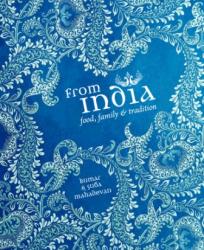 with culinary couple Kumar and Suba Mahadevan's'From India'. This small touch of whimsy reminds me of priceless, highly-decorated letters from far-away friends, of squirreled scraps of treasured textiles, of delicate silver tableware hand-bevelled by the artisans of ages back.
And it smells resolutely, reassuringly of printing ink. You can keep your Kindle – I love the smell of a book in the morning. I also love the jolt of a spiced Mysore coffee; the divine Parsi scrambled eggs known as akuri; and the crisp-spongy bite of a dosa dipped into creamy coconut chutney around about breakfast time – and, given chef Kumar Mahadevan's South Indian roots, I'd assume he feels the same.
Although he recommends his Amma's dosa recipe as ideal evening tiffin. But, different strokes for different folks – it's wholly delicious fare, whatever the clock says. And very, very diverse – not only in terms of the recipes' geographic origins, but also the ingredients – jackfruit in a pudding; bitter karela in a curry. The South of India is awash with exotic produce; the Konkan and Malabar coasts adding both fish and fragrance to the mix.
Fragrance and flavour are here in spades. In fact, flicking through the beautifully-illustrated pages, I swear I can detect the haunting scent of saffron. Sheer maya, maybe – but there's no illusion in the fact'From India' is a collection of thoroughly arresting recipes. And, critically, stories. Personal anecdote, local lore, historic background… each sprinkles its own unique masala over a dish. The more you know the more you taste. The more you taste, the more you perceive.
Talking of perception and taste, the Mahadevan's chapter division is interesting. Recipes are arranged according to their major properties –'sour','sweet','salt','bitter','spice'. This classification nods towards the Vedic concept of six tastes, which are balanced to keep the physical humours in check – but here, the more commonly-understood notion of'spice' replaces Ayurveda's'pungent' and'astringent'.
The book has much to offer veggies, with the population of the South following a predominantly vegetarian diet. But for those who are game, you'll find a whole farmyard gambolling amongst'From India's pages – variously featuring goat, chicken, lamb, beef, venison, duck, veal, quail and pork – the latter notably in the legendary Goa sausage historically informed by- and so similar to – chorizo, thanks to the tiny state's Portuguese legacy.
Another famed Goan delight includes bebinca, a sort of layered crepe cake. Desserts aren't restricted to the'Sweet' chapter, though, thrilling a mithai-addict like me time and time again as I leaf through discovering sweetmeats scattered throughout, punctuating the pages with their riches like flashy slivers of varq. A Parsi wedding custard sweetens the'Sour' section; Mughal bread pudding tempers'Bitter'; a violently vibrant beetroot halwa has a subtle'Salt' savour.
'From India' is a book as much about legends as lunch; stories as supper. I could dine out every bit as delightedly on the Mahadevan's delicious anecdotes as on any of Kumar's tasty dishes. There's no need to deliver a discourse with your dinner, but digesting a toothsome nugget of food lore does give you something extra to savour long after the last plate's scraped clean. And, where these recipes are on the table, that won't be long. So you'll need a little something to keep you going.