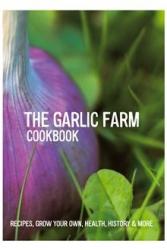 The newly released Garlic Farm Cookbook is more of an encyclopedia on all things garlic as opposed to a straight forward recipe book.
Inside the book you'll find chapters on everything from how to plait and grow your own garlic to how to use it for health and medical purposes, plus plenty of insight into the history of garlic.
A lot of people shy away from really embracing garlic as the wonder-ingredient it is because of the smell issue. They're wimps.
Yes raw garlic does smell, let's not get into 2+2=3 territory here. Saying raw garlic doesn't pong is like saying Sophie Dahl would still be a TV chef even if her Grandad wasn't Roald Dahl and she wasn't an ex-super model. In other words, not true.
That said, garlic is a versatile food that can add a range of flavours to a dish from sweet and unctuous to zingy and fresh. The recipes in the Garlic Farm Cookbook will help you to get more out of your garlic bulbs than you ever thought possible.
Divided into seasons, the recipes include modern rustic classics like Wood Pigeon Kievs, family pleasers like The Best Cheesy Garlic Bread and things you might never have thought of like Roasted Purple Sprouting Broccoli. All the dishes have one thing in common of course- garlic!
The Garlic Farm itself is an Isle of Wight farm owned and run by Colin Boswell, the man acknowledged as the UK's garlic specialist. Their homemade chutneys and pickles are winners of several Gold Taste Awards, whilst the garlic they grow has won six coveted RHS Gold Medals over the years.
The Garlic Farm Cookbook is priced £9.50 and is available from