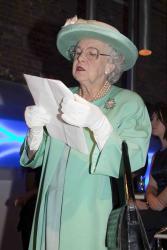 She was there, of course, at her own book launch. How could she not be? While Australia's Prime Minister Julia Gillard, the world's royal correspondents, King's Speech actor Geoffrey Rush and thousands of loyal Australian subjects thought they were in the presence of Her Majesty The Queen as she was doing her bit at the Australian War Memorial, meeting koalas, waving and keeping the Duke of Edinburgh in check, she had quietly nipped back to London for the launch of her first book. I know because I read it on Twitter:
'Making a flying visit back to London for one's book launch tomorrow night. Leaving Helen Mirren in charge in Oz. Gillard's none-the-wiser." she said in her 2,676th Tweet.
And then I saw her in person, in the Bombay Sapphire Blue Room at Vinopolis on London's South Bank, making a short speech before declaring, as she does every day, 'Gin O'Clock!".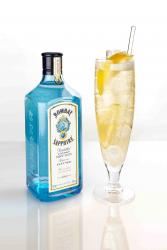 It's no secret (we all assume, from unofficial reportage) that gin, often with no tonic and sometimes with a heavy slug of Dubonnet, is Her Majesty's favourite tipple. Rather too favourite, it seems, judging by how many times she is 'approximately three quarters full of gin" or declaring Gin O'Clock at 5pm when 'it's 5pm somewhere in the Commonwealth" via her royal Tweets.
As I write this 473,679 of us think it's worth following her on Twitter for her irreverent comments about events of the day as effected by Cameron, Clegg, Miliband, Sarkozy, the French, Liam Fox – anyone who is in the news and needs to have their pomposity popped. Her wry wit is what makes it such a success – it's a Twitter version of a Private Eye cartoon stream. 'Having Eric Pickles collected and disposed of weekly", she declared when the frequency of rubbish collections was making headlines. Libya and News International were good Tweeting copy: 'Still no sign of Gaddafi. News International are checking to see if he has left a message on anyone's answerphone."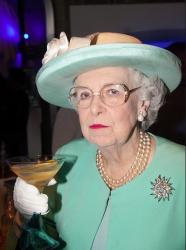 The Labour Party conference presented several Tweeting opportunities. 'Getting hundreds of calls from the Labour Party conference. All disappointed. They thought they were seeing the Glenn Miller Band." And 'Ed Miliband on the phone to the DoE. Thinks his speech went well. Unfortunately, like everyone else, the DoE isn't entirely sure who he is."
Being rude about Americans offers scope: 'Mr Jobs, there is no such thing as 'American English'. There is English and there are mistakes." Argentina doesn't escape comment from the royal keyboard: 'First the Falklands, now the rugby. It's a difficult life as an Argentinian."
Even her own family is not immune. Prince Edward gets a lot of stick for, she tells us, often dressing up in sequins imitating Freddie Mercury – and you can draw your own conclusions about the inference. Camilla is treated with light-hearted disdain. Zara Phillips' wedding offered several perspectives: 'Bacon sandwiches all round ahead of Zara's wedding. Beatrice leaving it to the last minute to reveal her hat. It'll be on eBay by tonight." Followed by 'Beatrice has revealed her outfit. Awkward." The Duke of Edinburgh is mocked and praised in equal measure. Today, as they continue their Australian tour, he's appreciated for his accurate summing up of the reason for the visit: 'Having Commonwealth Heads of Government over on Friday for a Queen's Speech, or a 'Motivational Bollocking', as the DoE calls it."
She often drinks to excess: 'Closing the UK early for reasons of a Gin O'Clock nature." And feels the consequences: 'Epic lie in. Bacon sandwich."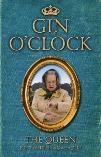 It all adds up to a guaranteed smile, the Tweets breaking the monotony of a day at a desk, expressing what a lot of us would like to say without quite knowing how to say it. And now it is out in full – including the thoughts behind Queen_UK's Tweets, as recorded in her diaries, Gin O'Clock.
Launch night gossip was not just about which came first (the Twitter account or the book) but also, and more intriguingly, who is behind them? As it takes ages to publish a book, logic tells us that the book was conceived first with Tweets appearing to drum up attention for publication date, as is typical in our social media age. But who is the author? The consensus was that it is a man, perhaps two or a team, possibly working in advertising, satirical journalism or on the stand-up circuit. Given that the Facebook page offers gin recipes made with Bombay Sapphire gin, might Queen_UK be working at Bombay Sapphire head office or at the Bombay Sapphire advertising agency? Or, one wonders, just possibly, and wouldn't it be fun, if the author really is One …
Gin O'Clock by The Queen [of Twitter: @Queen_UK] is published today, 27th October, by Hodder & Stoughton priced £12.99. It's the sort of book to leave beside the loo, a jokey compilation you can dip in and out of – though I will be reading it from cover to cover, grinning from ear to ear because of its sharp, quick-witted and always apt sending-up of people with a public life.
Gin O'clock launch gin recipe: Her Majesty's favourite tipple
Buy the book in hardback or as an Ebook in bookshops or: Hodder & Stoughton
Twitter: @Queen_UK
Twitter hashtags: #ginoclock; #ginoclockbook
Facebook: royalginoclock