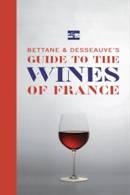 French wine; are you au fait or dans le noir? Do you know your Alsatian whites from your Rhone Valley reds? Well, whether you're a committed fan of les vins Français, or boggled by the vast choice available, a new book from Michel Bettane and Thierry Desseauve – Bettane and Desseauve's Guide to the Wines of France – might be just the thing you need to help develop your passion and your knowledge. Bettane and Desseauve certainly have the pedigree to write a book about the wines of France. Their list of accomplishments includes having co-edited the Revue du Vin de France for around 20 years – these guys know their stuff.
Bettane and Desseauve's Guide to the Wines of France has a thorough introduction, which explains how to understand French wine labels, and has a section devoted to the 20 most commonly-asked questions, which I found very interesting. This section also provides information about French grape varieties, and has details of how to use the guide and understand the authors' scoring system (yes, folks, all the wines are given marks out of 100).
The guide is split into regions; alongside the better-known regions, such as Champagne and Bordeaux, there are perhaps less well-known ones, including Jura and Savoie. Generally, there's some background information about the appellation, varietal styles and other general information and then it's on to the producers and wines. There's full information about the various wineries and then the scores; 'recently tasted' wines are only given a score, but 'older vintages' are given a score, succinct notes, and the author's suggested quaffing window.
This is a beast of a book; within its 800-plus pages, more than 7,500 wines are described and rated. It's a mind-boggling number, and you have to respect the effort that has gone into this labour of love. If I had one quibble, it's that there is no indication as to the cost of the different wines. Having all of these wines described, I wanted to try some to expand my horizons, but within my budget; a price guide would have been helpful in identifying wines that would suit my wallet. The Domaine Leroy Musigny Grand Cru 2005 piqued my curiosity (99 out of 100, reader), and a quick online search came up with a supplier… at £2,820 per bottle. My curiosity will, sadly, remain unsatisfied. Perhaps the reader should assume that the higher the score, the higher the price; I found Domaine Lejeune Pommard Premier Cru Rugiens 2004 (89) at £30 per bottle, but as most of the scores seem to be between 88 and 94, there are perhaps few, if any, wines listed that'll come it at under £30.
For me, this book would best suit a keen wine-drinker, someone with the space, time and money to build up a collection, and like any book that has a very specific subject and (somewhat rarefied) market, Bettane and Desseauve's Guide to the Wines of France is unlikely to become a mega-seller. But French wine has its enthusiasts, and for them, or for anyone wanting to develop their knowledge of this vast subject, buying this book would be money well spent.
Bettane and Desseauve's Guide to the Wines of France, by Michel Bettane and Thierry Desseauve, published by Stewart Tabori & Chang