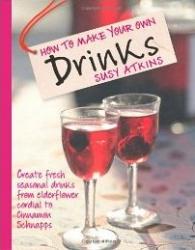 Ah the conundrum of the domestic cocktail hour. If, like me, you're bored with beer and your passion for wine is waning how about something completely different? A shot of cinnamon schnapps perhaps? A slurp of red chilli sherry?
Whether or not you've followed the zeitgeist for growing your own veg or foraging for wild food, making your own booze is all the rage, cheap, easily done and requires little or no swotting up beforehand. Forget the mouth puckering pea pod wine of The Good Life fame and instead put your trust in Susy Atkins, the award-winning wine writer and broadcaster, whose book 'How to Make Your Own Drinks' is as simple to follow as Delia's recipe for boiling an egg.
Granted, some of the wines require all sorts of kit and caboodle, like yeast, demi-johns and siphons, but many of the recipes are vodka based and require little more than a recycled glass bottle, some fruit and some sugar.
Recipes stray from the weird – oak leaf wine, rice and raisin wine, nettle beer – to the downright wonderful – limoncello, elderflower champagne and damson gin. I was beyond excited to learn you can make your own amaretto using best quality almond and vanilla essence. I can already visualise my kitchen the week before Christmas, as I decant and decorate a dozen small bottles of my homemade nectar to give out as presents, and can already feel chuffed at the thought. Other seasonal delights include egg nog, described by Susy as 'very sweet, very strong and very rich", cherry brandy and spiced apple cup.
Many drinks take a a good few weeks or months to ferment or steep so some advance planning and plenty of patience is required before you can enjoy the spoils but there some quick wins for summer entertaining. The curious but lovely sounding lavender vodka takes only two weeks, the spiced rum – a great base for Long Island Spiced Teas, says Susy – is ready to guzzle after just 48 hours. A handy table on page 20 shows you what's in season and when, and it pays to remember you can always pick and then freeze a lot of produce, in readiness for later in the year. A trouble-shooting page will, I'm sure, be a God-send for when furious fermentation and exploding bottles threaten to blow your cottage industry sky high.
There are plenty of non-alcoholic recipes too. Imagine the delight (and envy) from your friends and family as you present jugs of homemade cherryade, elderflower cordial or St Clements at your next barbecue. The shelf life of the cordials may be shorter than the shop bought stuff – only around six weeks in the fridge – but then you have more excuses to organise something social and get it drunk.
I've had this book for a couple of weeks now and I'm as enthralled with it as a Man Booker Prize bestseller. Although I like cooking, many of my recipe books are, I confess, cook-and-shut victims. Used once or twice and then left to gather grease and cobwebs on the shelf. This beautifully photographed and evocatively written tome I can already tell is a lifetime companion and one we'll refer back to again and again.
How to Make Your Own Drinks, by Susy Atkins, published by Mitchell Beazley, priced £16.99