Tibits,12-14 Heddon Street,LondonW1B 4DA www.tibits.co.uk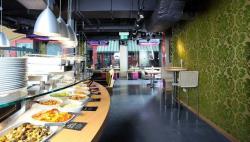 It's always a pleasure to discover new, vibrant parts of London that make you wonder how you ever managed to miss it. Heddon Street is one such little enclave off Regent Street that I never knew existed but to which hundreds of party-goers and vegetarians (and vegetarian party-goers?) flock every week to gorge themselves in stylish seclusion.
Tibits is a funky restaurant that looks – and with its house music backing track – sounds like a club, situated in the heart of this buzzing back alley alongside the likes of Ice Bar, Strawberry Moons, Aubaine and Momo. The interior is by Tricia Guild of Designers Guild, the staff are friendly, cool and good-looking and the owners are a Swiss consortium of three brothers, Reto, Christian and Daniel Frei, together with Rolf and Marielle Hiltl, of the trendiest and most famous vegetarian restaurant in Zurich, Hiltl.
I have a soft spot for Hiltl, from when I spent several months in a cramped city bedsit 13 years ago. Swimming in Lake Zurich and eating out at the myriad excellent restaurants kept me sane and a light lunch sat in the sun outside Hiltl is a fond memory while the tall handled glass I pilfered (soz) is still sat in my cupboard.
Tibits began as a concept over there 10 years ago and came to London in 2009. I had wondered about the origins of the name (is it meant to be Titbits, misspelt?) but once I learned it was Swiss I stopped asking questions. They have a very unique sense of humour. Having eaten there also helps bridge the gaps (literally as well as metaphorically) as the food on offer is indeed bitty – an open buffet bar of 40 hot and cold dishes that you help yourself to before paying at the till for the weight of your plate.
If you're a whiz at those 'guess the weight of the cake' competitions then you'll be an ace at this and won't spend a penny over your budget. For the rest of us it's pot luck, like pick 'n' mix but without the price per 100g benchmark, and if you pile your plate up like a spinster at a wedding then you could climb over the £10 mark. While this cannot be called expensive, at first I thought it a tad wily of them but our plates never went higher than £7 and I can vouch that by the end of our meal I was stuffed.
An exploration of the 'food boat' reveals that most of what's available is salad. It's interesting and diverse in its application but there is little in the way of substantial mains. You'd think a vegetarian of 26 years would be sick to death of quiche and meat-free lasagne but these are precisely the two dishes my dinner guest lamented the lack of, to accompany her quinoa and Greek salad.
She also thought it would be better to have all the ethnic foods grouped together: Indian, Middle Eastern, Mediterranean etc and to have everything on one level. Craning to see what's under the lights is harder if you're 5'2".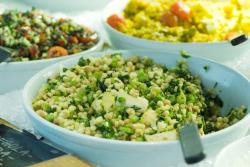 Once I'd got the measure of the place I set to trying as many different dishes as I could. Everything was nicely presented and looked really colourful and fresh. This is no turgid pizzeria salad bar. To cater for the number of people piling through the doors the chefs are at it from dawn till well past dusk and kept appearing with giant bowls of this and that to keep the boat replenished.
A dried bean salad with walnuts and a red balsamic and rapeseed oil dressing was the first surprise. I thought it might be chewy and too overpowering on its own but it was light, tender and really moreish. Apparently it's a Tibits classic and you can buy the dried beans to take home, along with a free recipe card.
A gently spiced aubergine antipasti, served cold, was chunky and grease free; a raw green 'power' salad of edamame, green beans, courgette and broccoli florets was crisp and minerally and entirely saintly; while mixed baby leaves drizzled with an orangey chilli-fruit dressing was another exciting way to get your daily dose of zinc and folic acid.
Of the hot dishes (which are warm at best) the cauliflower in a barely there herb crust was fantastic and the day-glo African aboboe featuring hunks of firm sweet potato and little black eyed peas in a savoury sauce a pleasant education. Stuffed jalapenos, pakora and falafel took us back to the party food theme but were perfectly cooked and very tasty all the same.
After two modest plates each we were fit to burst so no room for pudding, which is also found at the boat and included that day a good looking plum cobbler and a baked cheesecake. Should you eschew alcohol, like more than half of our co-diners, some of the juice drinks and smoothies looked as substantial as desserts. Strawberry juice, tamarind lemonade and mango lassi were among the exotic concoctions advertised on the chalk boards.
'Tibits to go' has been recently launched where pre-prepared boxes from around £3 promise to liven up your lunchtime, and that for me is the essence of the Tibits experience. A delicious, nutritious and reasonably priced lunch or re-fuel, but I wouldn't call it dinner. The legions of fans for whom this is clearly seventh heaven, however, would beg to differ.