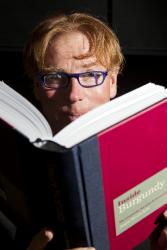 Inside Burgundy is a serious book for serious wine lovers. Offering unrivalled insights on the vineyards, the wine and the people, the 656-page book covers 1,000 specific vineyards from grand crus to obscure plots.
Internationally acclaimed wine writer, Steven Spurrier, says in his foreword: 'To sum up, Jasper Morris has found a way to illuminate the bafflingly complex relationships between people and place, vigneron and vineyard, which are at the heart of Burgundy. Authors have tried before and superb books have resulted; none, however, has succeeded quite so well in presenting the detail, in making clear the pattern, without drowning the reader in nuance, exception and ambiguity.'
Inside Burgundy is written by an expert who combines three decades of intimate on-the-ground knowledge of Burgundy with the healthy scepticism of an international wine merchant.
Jasper Morris has lived, breathed, bought and sold Burgundy since 1981. He has a home there, he makes his living there. He has built up over 30 years the kind of exact, on-the-ground knowledge that only someone based in the region can acquire.
Alongside his treatment of the vineyards, Jasper brings out the role of the vignerons and today's influence on them, and thus their wines. We learn the histories, their philosophies, their relationships (so many cousins, so many marriages, so many tangled inheritances – as Jasper says, the book really demands the subtitle 'The Sex Life of Burgundy').
The wine maps surpass anything previously published in English. They have been produced to match Jasper's work in breadth of coverage and depth of detail.
A 16-page preview can be viewed at http://www.bbr.com/GB/about/inside-burgundy.
Inside Burgundy (ISBN 978-0-9510632-1-7) costs £50.