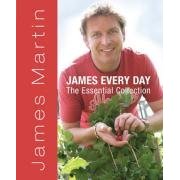 We all know James Martin, although these TV chef chaps are getting a bit hard to tell apart aren't they? There's the bald bloke who says 'cooking doesn't get tuffer than this!' and the bloke who pretends to listen to him and who looks a bit sweaty and unwell. James isn't one of them, he's the bloke who you see on Saturday Kitchen and who your mum thinks is quite sweet. He's a Yorkshireman through and through but every now and then I think I detect an Aussie accent. Mind you a lot of people of his generation have that, an effect I think of Neighbours.
Anyway his love of the UK was made manifest in the series The Great British Village Show and you know what? His recipes are really rather good and, as the title of this latest book suggests, they are achieveable on a day to day basis. In fact, looking through, I was struck by just how many things in the book I really wanted to cook and at how I had many of the ingredients to hand. It's his trademark really; big strong defined flavours that are easy to assemble. And of course he is using UK ingredients and championing the specialist supplier.
He's happy to help you cheat a Coq au Vin, delivering all the taste but without the fuss, and to be a little bit adventurous with dishes such as cod with vanilla mash. I tried his Red onion and creme fraiche pizza and it got the clean plates thumbs up. Roast pork with butterbean broth was another The pictures in the book, and there are over a hundred and fifty of them, have a pleasing simplicity and honesty portraying a dish as you and I might make it, and not as a stylist would want it. Delicious.
{ISBN:1845334884}