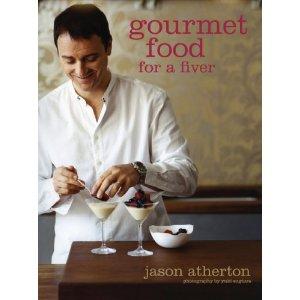 As the shock of Jason Atherton's resignation from the Ramsay Empire begins to die down, here is his new cookbook to console us until he pops up elsewhere, as he surely must. And far from being a Maze cookbook, delicious dishes beyond the reach of most of us, it's a book that promises us that we can cook well and for under a fiver a head.
What JA makes clear in his thoughtful intro is that this is no gloomy recession cookbook – all back to basics boring ingredients that create even more boring dishes. No, instead he reckons that you can cook a two-course meal for under the magic fiver through careful use of what is seasonal, and therefore cheap. Of course it's assumed that you already have a store of basic ingredients to work with, so these are not factored into the cost calculations.
Inexpensive cuts of meat are also firmly on JA's menu, things like pork belly, beef flank and lamb shoulder, great tasty meats and so much better than filet steak which costs a fortune and barely has any flavour at all. And of course fish too, the cheaper ones such as pollack and mackerel and even tinned ones like tuna. There's plenty of variety here to make sure eating on a budget needn't get dull.
So what does he make with his humble ingredients? Well there's Asparagus with poached egg and smoked prawns. Asparagus out of season clocks up the air miles to get to us and consequently costs a lot. When in season in the UK however, the price goes down and the quality and flavour go up, meaning that this dish easily slips under the price limit. At the other end of the UK season, Autumn, he takes a butternut squash, so easily found in every vegetable section, and partners it with crayfish tails from a jar to make a stunning soup with a lime chantilly. All of the dishes are designed to be both contemporary and flexible – starters or mains – depending on your mood, and hunger.
Chinese spiced roast pork belly with spring onions and pak choi makes the most of what must be one of the most inexpensive meat cuts on the market and one that always responds well to Asian spicing. It needs long cooking but that's okay because you can make it a day ahead. Quicker buy far is the Grilled chicken with tamarind and herb salad. Okay the chicken needs to marinade overnight but come dinner time the bird takes no more than 20 minutes to grill to perfection.
Desserts don't go unnoticed either, with great looking (as you'd expect from the Maze master of presentation) dishes such as Yoghurt with apricots, honey and pistachios or Vanilla cheesecake with rhubarb and ginger. There's even a good old Treacle tart on offer as well as a twist on Bread and butter pudding that uses coconut milk.
Photography is first class, of course, and each recipe has a short note from Jason on how to plate it and some thoughts and tips on the major ingredient. There's also a very handy menu planner at the start of the book
So if you're thinking of cutting down on luxuries because of the recession, think again. Hopefully when Jason resurfaces as a working chef he'll be knocking out great food for a fiver in a restaurant too. Hmm, well we can all dream eh?
{ISBN:1844008169}