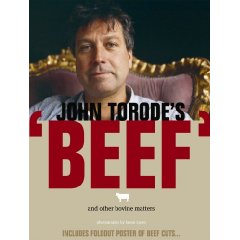 John Torode's face gazes out of the front cover of this book looking like a cow benignly watching a farmer approach with a shotgun. No doubt it was a deliberate design decision, but it does make you question the wisdom of eating as much meat as John clearly has done. He looks, to be blunt, a bit beefy himself.
A well -respected and successful restaurateur, Aussie John opened Smiths of Smithfield back in 2000 and the place has just got more and more popular each year. He knows his meat then and it was no coincidence that he opened Smiths in what still remains the meat market hub of London. As he says in his introduction, he has learnt a lot about beef over the years and he wants to pass it on to us in simple home recipes because ' restaurant recipes belong in a restaurant." I couldn't agree more.
Many of us are confused by cuts of beef and so he starts off by mapping out the best bovine parts and explaining what they are and how they taste. To help you further, the whole cover unwraps into a giant poster of a cow with the cuts all clearly shown. Not the thing to have on the wall when Morrissey pops in for a cup of tea perhaps, but it is still a rather useful little value extra.
He also delivers the deal on buying meat, admitting that not all of us are lucky enough to live near an expensive butcher and so supermarkets are we mostly go. He is understandably scathing about buying organic meat that has been flown half way around the world. Instead he supports the Rare Breeds Survival Trust and has a list of suppliers in this country he recommends.
And so to the recipes, from how to make a 'bloody' great beef stock you can freeze like ice cubes and so always have that magic ingredient to hand, to classic dishes such as Ossobuco, Bresaola, Surf n Turf and braised oxtail and celeriac mash, Mmmmm Oxtail. Plus of course all the tips you need to turn out a perfect steak or steak and kidney pudding.
Eat every dish in this book and you'll end up looking like a Dickensian character but wouldn't it be worth it? Written with the style and confidence you'd expect from Mr Torode, it's a book that celebrates big food and big flavours and which guides you to lesser costly cuts and so is in perfect tune with the times. Tender and tasty and done to perfection in fact.
{ISBN:1844006239}