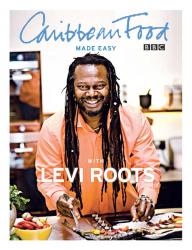 If you saw Levi Roots on the BBC you no doubt were consumed by jealousy at the sight of Caribbean clear blue skies, golden beaches and sun, sun, sun. I know I was, anyway.
Levi was born in Jamaica and came to Brixton, my own hometown, when 11 years old, which must have been a bit of a shock for him weather-wise. Here he learnt to cook from his grandmother and one day he wandered into the Dragons' Den with his Reggae Reggae Sauce and he was up, up and away.
So here is the book of the TV series helping you to recreate the sunny dishes he loves in your own, no doubt by now rain-lashed, home. After a charming introduction, which shows that Mr Roots can write as well as cook, he lays out the ground rules of the Caribbean kitchen listing the classic ingredients you need to have in your store cupboard such as allspice, escovitch, hard dough bread, tamarind, vanilla and, of course, rum!
These are meals to warm the soul as well as the stomach, with a chapter of one pot meals that anyone would be happy to come home to, including Caribbean lamb shanks, Jamaican pot roast and Caramel lime chicken. Great soups too, like Pumpkin, chickpea and spinach and Chilled avocado with crab.
Of course fish is what the islands are all about, meat being harder to find. Sea bass escovitch, Spicy mackerel with green bananas and a luscious Caribbean fish pie that gets its exotic angle from coconut and sweet potato mash, along with limes and coriander, are all on Levi's menu.
BBQ or roasting is natural when you live somewhere hot and cloudless, and the Caribbean people have made an art of it. The Honey, grenadine and ginger roasted lamb with pomegranate and mint salad recipe is perfect for kettle barbecuing or failing that sticking in the oven for a Sunday roast with a difference. Tamarind and molasses roast chicken sounds like a winner too, especially with Pineapple avocado, orange and mint salad with ginger dressing
And even if you don't have a beach handy, the beach food chapter is still a great temptation what with Smoked fish and lime patties and Saltfish and okra stuffed sweet potato dishes plus a luxurious Barbecued lobster.
Dessert wise there's a Caribbean Christmas cake, Plantain pies and, if you like chocolate brownies and who doesn't, there are ones made with ginger, pecan and rum. That has to be a dessert worth putting on weight for
There are over 100 recipes here, each a real taste explosion and something to liven up mealtimes after too much Italian or French cuisine. Caribbean food is not the stuff Michelin Stars are made of; it's too vital, ital, cheerful and homely for that. It brings a sense of fun and family into our rather grey lives on our sodden islands. A taste of another island group where the sun always shines and the people are always smiling. And eating.
You could win a copy in our competition
{ISBN:1845335252}