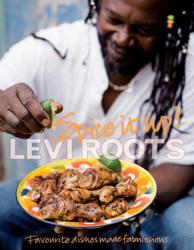 Adding some much needed heat and spice into our dreary, sunless summer, Levi Roots is back with his fourth cookbook in as many years. The latest, Spice it up, is a collection of Caribbean-inspired, 'fabulocious' recipes aimed at spicing up our mellow taste buds. Like so many celebrity cookbooks, the main focus is on ease and simplicity and like each of his previous three titles; Levi is sticking to what he knows best, the funky, firey flavours of the Caribbean.
Featuring over 100 brand new recipes, Spice it Up is divided into thirteen chapters, with sections dedicated to everything from chicken to coffee, mangos to meat and rice to rum. Packed full with lots of vibrant pictures of the dishes, plus a handful of shots of Levi looking as jovial and laid back as ever, Spice it Up will certainly liven up any book shelf it finds itself on.
Looking through the book, there is an abundance of exciting and unusual flavours used throughout, such as turmeric, angostura bitters, nutmeg, cucumber relish and allspice berries, but it's good old rum that seems to be one of the most popular, particularly in the desserts. Recipes that really caught my eye were Creole style aubergines, wicked Caribbean hot chocolate and Caribbean Christmas pudding, all looked and sounded like they would certainly get the taste buds going.
I'm ashamed to admit my knowledge of Caribbean cuisine doesn't really stretch much further than jerk chicken, but by the time I'm finished with this book that certainly won't be the case. Each section is full of inspiring, interesting recipes and the grilled fish dishes look particularly amazing.
Best of all you'll find most of the ingredients in any good supermarket and don't worry too much if you can't, there are plenty of recipes that feature many of the common everyday herbs and spices. It's a quick fire way to becoming a Caribbean expert in no time.
Overall Spice it Up is great book for anyone who is a fan of big, bold dishes and that wants to delve into Caribbean cooking, while experimenting with some less common flavours.
ISBN: 1845335929