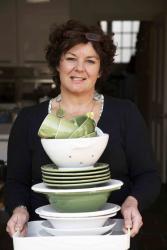 'It's made of concrete" says Lucy Cufflin, pointing proudly at her kitchen worktop in her pristine house in Chiswick. It's not the only surprise in the kitchen on this distinctly dark, almost-autumn evening. Cornflake chicken is another. And, believe it or not, it also works well.
Tonight is about leftovers – the floppy, sad salad from last night, the vat of chilli so vast it could have helped Jesus feed those 5,000, or the curry that isn't enough for a meal but you just can't bring yourself to bin it. It's not about chucking it the moment it's gone cold, but using up those bits and pieces left in your fridge to make a meal as good as, if not better than, the original.
Fellow diners and I have brought some goats cheese, the chilli A made the previous night, some left over curry, lamb breasts cooked in a harissa paste as well as various fruit and veg Lucy's scraped together. And, she says, there's no need to chuck any of it. Despite her background as a chef working in skiing resorts and cooking fresh meals, using up leftovers has always been high on her list of cooking priorities.
Highlights are a carrot and peanut butter dip for vegetable sticks and the very pleasantly surprising cornflake chicken. The texture on the chicken is unlike anything I've eaten before – and like most people, I've eaten a LOT of chicken. It has a cereal crunchiness unlike a breaded coating that is really rather good AND you don't feel quite as naughty eating it.
As you'd expect from a professional chef, Lucy's store cupboards aren't just filled with staples (which she says is vital), but plenty of tips too. She's happy to use stock cubes, despite many people's protests, arguing the quality of some available in the shops these days is excellent. We are given a recipe for a soda pizza base, which she combines with an old salad and the goats cheese to make a tasty pizza ready for a packed lunch, while she wraps my chilli in the same dough to make a calzone. She suggests using salts with spice mixes to turn a drab meal delightful and introduces us to one of her favourite Indian spice mixes, panch puran, literally 'five spices'. This she uses in Sunday dinner leftover samosas, a mix of meat and veg wrapped in filo or samosa pastry.
Lucy has already made bite-size quiches by the time we arrive, which again are made using her salad, and a soup to use up excess brussel sprouts and those dregs of stilton I always seem to find hidden away in little bits of waxed paper at the back of the fridge. For pud, just as I feel I might explode, we are given little apple strudel puddings; whole apples, cored, stuffed with Christmas pudding (Lucy explains she has just done a Christmas dinner shoot) and wrapped in filo. And we're sent home with more of the Christmas pudding, only this time drenched in a little more brandy and mixed into brownies. They are some of the most moreish brownies I've ever eaten, scoffing the lot the following night. If nothing else, Lucy has made sure I certainly won't be the one to leave my leftover pudding until it's, well, as concrete-like as Lucy's worktop.
Lucy's Food, by Lucy Cufflin, is available from all good bookshops and from Amazon. RRP £20. You can follow Lucy on Twitter @LucysFood