Manju's fifth book comes in a small, neat volume- rather like the author herself. As dependable as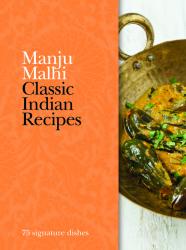 expected from such a down-to-earth voice, 'Classic Indian Recipes' is one to keep on the kitchen shelves, it's enticing photographs destined to be embellished with stains and spatters.
The capsule collection of 75 recipes highlights and celebrates regional cuisine- with dishes originating from Maharastra to Madras. The distinctive spice palate of each geographical area makes for a panoply of flavours, textures and heat levels, meaning all-comers will find something to assuage a craving, whether for heat, sweet or sour.
Manju's prose is informative and concise, acknowledging both native and foreign influence on Indian cuisine. Opening with a brief section on ingredients, techniques and skills provides the amateur enthusiast with enough wherewithall to tackle any of the recipes here- and, indeed, the inspiration to find out more.
Use of unorthodox ingredients like Cheddar cheese in the malai murgh tikka kebabs displays the creative innovation commonly employed yet kept somewhat secretive amongst great Indian cooks. The result here is a luxurious meaty mouthful with an elusive creaminess that just won't quit. Sorry, purists- score one for a cheese-wielding Manju.
The choice of dishes is well balanced- dry and wet; rich and fresh- and introductory paragraphs pique the interest, tempting the reader to try a recipe they might otherwise have overlooked. Everyday, homely stews such as Bengali fish curry sit alongside celebratory preparations like Raan- whole roasted leg of lamb, with a few- mutton nihari; semolina-based puja sheera- having particular religious significance.
Vegetables go way beyond the 'curry house sides'; numbering a Moghlai way with paneer; resolutely non-slimy Jaipuri okra; and lip-smacking Keralan aubergines, twangy with tamarind. A penchant for picking is rewarded in the 'Snacks' chapter- green bean-stuffed kachoris, the curious Gujerati dhokla- a spiced, savoury cake-, and the glossy chilli paneer Manju likens to barbecued spare ribs, are all unmissable.
The dessert chapter ends the book on an appropriately sweet note, a whirlwind of crunchy semolina biscuits, Hyderabadi-style apricot fool and creamy hung yogurt shrikhand. And very, very good barfi. They say the best things come in small packages- an adage the reader would do well to heed when tucking into the diminutive feast that is 'Classic Indian Recipes'.

{ISBN:0600622355}