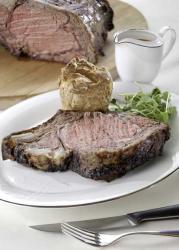 Everyone's talking ribs these days, another essentially American food that could be said to be overhyped and over here. Before the craze started though there was the Rib Room Bar and Restaurant and as you might imagine, they serve pretty much one thing only.
They do ribs every way imaginable, including everything from traditional beef and lamb to fish ribs. The mind boggles at the latter mind you
To celebrate they have the 'Rib Menu' available for £85 per person from 14 May – 30 June, exclusively for tables of four or more with imaginatively meaty modern British classics, created by headchef Ian Rudge. Starting with a dish of pressed pavé of foie gras, confit beef rib, apple caramel and Somerset cider jelly, diners move to a fish-course of roasted monkfish ribs, English asparagus, wild garlic purée and shallot foam. Next, they can experience the Spring speciality with a robust combination of braised lamb ribs, roasted sweetbreads and an individual 'Lancashire hot-pot' before the pièce de résistance of The Rib Room's signature dish: chargrilled Aberdeen Angus rib of beef, served with crispy bone marrow, wild mushrooms and seasonal English vegetables.
To book call 020 7858 7250 or email reservations@theribroom.co.uk at least two days in advance to
The Rib Room Rib Tasting Menu
14 May – 30 June 2012
£85 per person
162 Sloane Street London, Greater London SW1X 9BS
Available exclusively for four people or more, with bookings taken 48 hours in advance
Amuse
* * *
Pressed pavé of foie gras and confit beef rib, apple caramel and Somerset cider jelly
* * *
Roasted (rib) cutlet of monkfish, English asparagus, wild garlic purée and shallot foam
* * *
'Lancashire hot pot" Braised lamb ribs, roasted sweetbreads, young carrots
* * *
Chargrilled Boston Aberdeen Angus beef rib, crispy bone marrow, wild mushrooms and English pod
vegetables
* * *
Pre-dessert
* * *
English strawberries, vanilla gel, hibiscus and vanilla ice-cream
* * *
Coffee and selection of English themed truffles