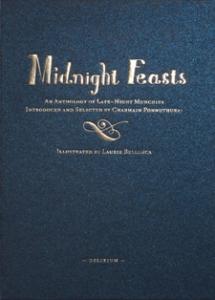 There's something very evocative about the idea of midnight feasts, probably because most of us will have a memory of one, usually from childhood… a sharing of snacks on a school trip, maybe, or an illicit raid on the fridge when everybody else is asleep.
Now, a new book, Midnight Feasts gathers together a collection of nocturnal gastronomy suggestions from contributors including HRH the Duchess of York Sarah Ferguson, Mark Hix, Tara Palmer-Tompkinson and Sophie Conran. Not only is the book a treasury of great ideas, but it also supports the 'Springboard for Children' charity, which tackles childhood dyslexia, working with children in inner-city areas to achieve their full potential.
The book is split into seven sections, among them 'Food for Eating in Bed', 'Fantastical Food' and 'Food to Keep You Awake'. There are around fifty recipes in all, each accompanied by a note from the contributor.
The book is an interesting mix of ideas: some dishes, such as Anya Hindmarch's Platter of Cold Meats and Potted Artichoke, just need to be taken from the fridge and devoured, but there are also interesting snacks to be made, like Gillian Anderson's Peanut Butter & Banana, also more involved recipes, Gwyneth Paltrow's Chinese Duck being an example.
Midnight Feasts conjures up a misty-eyed nostalgia, which makes for an enjoyable wallow in memories, but more than that, there are ideas for everyone in here, from the novice to the more accomplished cook: and better still, 100% of the profits go to Springboard for Children (www.springboard.org.uk). It costs £12.99, and is available from bookshops, through online retailers, or by calling 0845 458 9911. Make some space on your bookshelf for it!
Phillip Azevedo