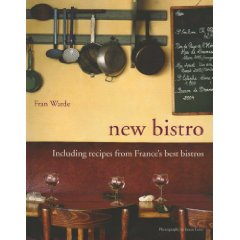 Did you know Bistro is Russian for 'quickly'? It's apparently how the name came about, from hungry Russians banging on the tables in Parisian restaurants and demanding to be fed 'tout de suite'.
Bistros themselves of course went through a rough time in the '70s when men in wide ties and droopy moustaches would take their Good Lady Wives to the local spot and discuss ad revenues for the Sunday supplement they worked for. The food was very patchy to say the least and the wines were even worse, staining your teeth for days afterwards.
In France the bistro has had hard times too, even the French are succumbing to le Fast Food, but the good places survive. A little less ragged around the edges than previously perhaps and now a bit more expensive, they are the surprise delights you stumble upon when driving aimlessly about in the country. Acclaimed food writer Fran Warde has done much of the driving herself; discovering bistros where chefs have brought big restaurant skills down to a simple country place and at the same time come with new ideas about lightness and freshness.
You could tour France with this book in the glove compartment and the satnav programmed to visit all the places. Fran features eight regions of France and the bistros she visits have their names, addresses, phone numbers and even opening times (always useful in a country where opening times are a bit of a lottery). Certainly the ones she has spotted in the area of France I go to most often are now very much on my Must Eat list.
Let's not forget though, this is a recipe book too. Recipes from the twelve cooks featured are here as well as Fran's own, inspired by the New Bistro cuisine. Many are new and many nod familiarly to past classics such as Leg of Lamb with ratatouille, Gratin Dauphinoise, Chicken baked in cider and Langoustine flans. Don't they all sound a lot more tempting than molecular gastronomy? A lot easier to create too.
It's arguable that le Recession will see a return to honest food and a retreat from foolish flights of fancy. Certainly the English will not be able to eat abroad in expensive places anymore as our hopeless currency, that we should have chucked in years ago, continues to descend against the Euro. Bistro could and should come back and the dishes in this timely and excellent book should help form a warm and cosy bulwark against the cold wind of economic change.
{ISBN:1845333306}