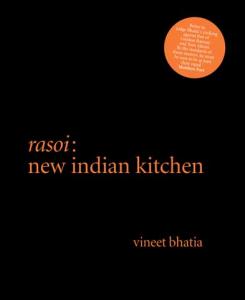 Vineet Bhatia's Rasoi: New Indian Kitchen is a beautiful book that refuses to patronise its readership. From the wry black flock cover that mimics high street Indian Tandoori décor to the serene, understated photography, this 272-page cookbook should thrill the style seekers. The recipes are certainly not for the faint-hearted or those for whom a Vesta curry sauce constitutes an Indian. You will need to set at least a couple of hours aside for many of the 150 recipes which are as precise and fastidious as you would expect from the first Michelin-starred Indian chef.
Bhatia, in his introduction, talks about how he didn't, 'set out to be a chef". His first love was the sound of the Gulf Air DC10s flying over his Bombay flat which sparked his ambition to be a pilot. Later rejected by the Indian Air Force, he settled instead to marry a pilot's daughter, creating the husband/wife team behind today's Rasoi and Urban Turban.
He begins with the basics, whipping through the merits of marinades, bastes, pastes, butters, batters and raitas before delving into starters, mains and desserts. A typical dish splits into various meals in themselves. For instance, the home-smoked tandoori lamb rump, silken saffron mash, lamb samosas, spiced mint jus and lemon grass foam… start after breakfast if you need to pick the kids up from school. You'll have already needed to make the garlic, ginger and chilli paste for the first marinade, never mind the second marinade, before even starting to contemplate the lengthy ingredient lists for the rest. But that is this book's strength. Bhatia is sharing his finesse with you if you're dedicated enough to go the whole way. Me, I'm too impatient but I'm sure these recipes will delight enthusiasts of Indian fine dining.
{ISBN:1906650195}