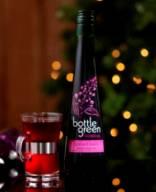 Made from blackcurrants and aronia berries, blended with a selection of winter spices to capture that taste of the festive season, all you need do is add hot water to a measure of bottlegreen Spiced Berry Cordial to release its warm aromas, maybe while you enjoy your perfect winter evening, perhaps spent curled up on the sofa in front of an open wood fire. Or, for those Yuletide drivers out there, bottlegreen Spiced Berry mixed with hot water makes a great non-alcoholic substitute at any gathering.
Spiced Berry Cordial can also be used to add a festive flavour to wine, creating your own version of mulled wine. So, why spend time mulling over how much spice and orange to add to this Christmas tipple when you can simply add a splash of the Cordial to your warmed red wine to make a great, easy-to-make festive drink. Try serving it to friends and family – they never need know you cheated! €"It also works well with whisky giving it an intense fruity flavour.
bottlegreen Spiced Berry cordial can also be used to make a host of winter desserts such as Chocolate Roulade with Spiced Berry Compote and Contrieau Cream, or Poached Pears with Spiced Berry Sauce, which can be found on the bottlegreen web site. Let your imagination run loose as to how you can add a festive fruity warmth to your dishes, in the knowledge that it contains no artificial colours, flavours or sweeteners.
Available widely at major supermarkets and up-market independents you can find recipes and more information about their products from their web site www.bottlegreen.co.uk