145 Dovehouse Street, Chelsea Square, London SW3 6LB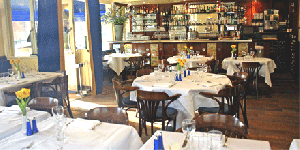 It's not often I enter a restaurant and immediately lower the average age of the clientele by about thirty years. All around us glided silver haired, straight- backed gentlemen of ex-Brigadier appearance, accompanied by their good lady wives decked in the family jewellery. It was rather like entering one of the last books of A Dance To The Music of Time. Mark Members over there, Sir Magnus Donners at the door and to the side, balefully watching the throng, Widmerpool himself.
To be honest we were dining a bit early and some younger versions of the well-heeled locals did languidly drift in later, including one man who looked remarkably like Robert Plant, or perhaps Noddy Holder.
Ageism apart, this converted pub in the shadow of the hospital, has a very good Paris brasserie feel to it. The place is busy; the wait staff are dressed in classic outfits and, like any good Parisian waiters, never seem idle. If any find themselves with a moment to spare, they put it to good use; cleaning glasses, clearing tables and anything else their professional radar can spot that needs doing. I like that, it's a sign of a serious restaurant that wants to feed its customers properly, not preen about thinking itself fantastic because chef bought a sous-vide and once almost worked at El Bulli.
And the bread's great too, proper crunchy baguettes which arrived promptly in a basket that was refilled every time we emptied it, which was pretty often. The classy Echire butter was smoothly soft; I hate it when the butter is too hard and I do like butter.
My starter of Seared Tuna with Oregano Dressing was excellent, I was actually surprised by how much I liked it. The searing was just enough, a few millimetres in, and the tuna was firm and full of flavour and served in a generous amount. The pink peppercorns added mild punch and were a bit too many, but that was no big deal as they could be rolled aside easily enough.
P had Poached Eggs in Red Wine Sauce with Bacon and Baby Onions. The bread was employed to soak up the gloriously eggy sauce but she wasn't too keen on the onions, but she never is. I agree; they can be a bit too acidic in any dish. This was still a very good and unpretentious dish from the canon of classic French cuisine.
In fact in a brasserie you have to have classics and none is more Parisian than steak frites. Sounds simple and in theory it is, but the number of feted chefs in London who can't cook a decent steak or fry a batch of proper chips seems to get higher all the time. I asked for my steak 'a point' and of course the French staff knew exactly what that meant. I do get fed up trying to argue with waiters what my interpretation of 'rare' might be when compared to theirs. It was a good cut of beef well cooked and juicy. The pepper sauce was slightly thin, but luscious golden chips in a big bowl, and a log pile stack of gloriously garlicky French beans came as standard and I dunked both in the sauce to delicious effect.
P's confit duck leg was she felt a bit heavy with bacon bits, considering she had them in her starter too, but as I pompously pointed out to her the menu did say 'frisee aux lardons' so it shouldn't have been a surprise. She found the leg a bit dry, but otherwise said it was all you want from a confit canard- rich Gascon flavours from the fat it was first slow cooked and then fried in to give that all-important crisp skin.
They have a wine list of That's What I Call A French Wine List thoroughness, but allow diners who have even better cellars in the basements of their Chelsea mansions to bring their own. I saw a couple of Young Conservatives do just that and cheerfully pay the corkage.
Desserts were not the highest point, my crème Brule was solid but uninteresting and P's Crepes Suzette she found only 'hmmm okay', but by then we were pretty full.
When you add it all up Le Colombier has all the hallmarks of a local restaurant well able to survive recessions. Clean, classy in an iconic way with wait staff dedicated to service and with a kitchen than knows what it's doing on a daily basis, it eschews passing fads and does the Braz business with style and at a fair price.
Some people might hanker for a more modern novel approach to cooking it's true, but when it's a neighbourhood restaurant we're talking about you can give me Anthony Powell over Zadie Smith anytime.