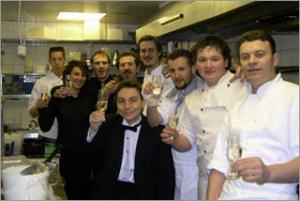 There are few things more annoying than finding out about a hip restaurant five minutes too late, especially one whose PR company has suggested they eschew the basic civility of a booking policy to generate buzz.
Mid week and mob handed we were having no luck getting a table at the aforementioned hip hangout, so it was with bitterness in our hearts and a copy of the lunch-time only booking number in our hands that we sought the reliable shelter of Vasco & Piero's Pavilion Restaurant.
Vasco & Piero's is a Soho institution with a menu similar to many London Italians. What you get is 'regional cooking', in this case Umbrian, with all the best bits from the rest of the rest of the Boot thrown in for good measure.
Luckily we were only in the market for a main course as it seems tried and trusted home-style cooking doesn't come cheap.
Having said that what we did order was good, really good actually. The stand out was a classic Umbrian porchetta served with cannellini beans and spinach. The rolled loin had been filled with a very subtle sage and offal stuffing that really leant a wonderful sweetness to the salty pork. I love cannellini beans and here they acted as a grateful sponge, soaking up the juices from the delectable meat. I felt the spinach was superfluous and a tad overcooked to be honest put it did provide a nice visual contrast on the plate.
The other dishes we ordered were equally splendid versions of fairly common-place favourites. The grilled cod came perfectly cooked, its translucent centre breaking away into meaty flakes at the first hint of a fork and our beef ragu with homemade pasta was executed to an extremely high standard.
I really enjoyed the few mouthfuls I was spared of my friend's calf's liver. Not a liver belonging to my friend's calf unfortunately, but still pate rich and butter smooth, working very well with the crispy sage potatoes we ordered alongside.
Puddings were nothing to shout about with a generic brownie and uninspired cheese board rounding thing up, but that didn't matter really, by then the good work had been done.
Vasco & Piero's really delivers on atmosphere and service providing the perfect environment in which to enjoy a convivial evening of bonhomie amongst friends. They made us feel welcome where others could not and that counts. In a city of sound stage authenticity and social network hyperbole, I think it's important to remember that sitting down to dinner should be just as important as being seen sitting down to dinner.