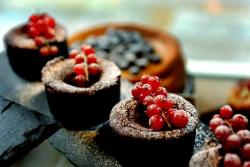 GAIL's bakery will be kicking off this year's festive season with a Christmas stall held at each of their stores (St John's Wood, Hampstead*, Notting Hill and Battersea) on December the 5th from 10am till 6pm.
Stall visitors will be treated to piping hot roasted chestnuts, warm mulled wine made by GAIL's head chef, festive fruit mince pies, traditional German gingerbread cookies, GAIL's festive cake plus many more taste bud tempters and Christmas stocking fillers. If that's not enough, they will also be treated to the angelic festive vocals of local school boys choir.
The team behind GAIL's was inspired to start the business as they found it hard to find a'healthy' loaf on the high street. GAIL's offers a wide selection of breads, cakes, and pastries. Knowing man cannot live on bread (and cake) alone they also make seasonal salads, fresh soups and sandwiches, what's more, all GAIL's products are preservative and chemical free.
For those not near a GAIL's shop, you can find GAIL's bread at 24 Waitrose locations in London, Ocado (www.ocado.com) the national online grocer and GAIL's at Harvey Nichols.
If you intend going to the Hampstead store for this event, we understand that this will be held on 12 December not 5 December.