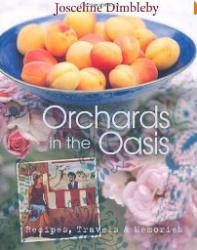 LATEST NEWS!
3rd June 2011: Josceline Dimbleby wins Guild of Food Writers' Kate Whiteman Award for Work on Food and Travel for this lovely book. Here is our original review:
With the news that Joscelyn Dimbleby has been nominated for a Guild of Food Writers' award for her memoir with recipes Orchards in the Oasis, it's time I reviewed this book.
It dropped chunkily through my letterbox late last year, a few days before I left for a long holiday to New Zealand and Australia. With no time to read it beforehand, it seemed I would have to leave it behind and review it after landing back in reality. But there was something extraordinarily captivating about its pretty cover – and the fact that is partly a travelogue; I couldn't stop thinking about it. Perhaps it would reduce the impact of what everyone told me would be an unbearable journey. Into my hand luggage it went – and it proved the ideal traveling companion in the air, offering light bites I could dip into, adding variety to an endless stream of unexceptional movies, and distracting me from tedious staring at a far too small map plotting our progress in irritating flashing blips.
The Antipodes don't, however, feature in this memoir. Josceline's travels take us through her life from the age of seven when she traveled to Damascus by cargo ship (to join her mother and her diplomat stepfather) to a recent holiday in Gujurat. In between were many postings and holidays, in the middle and far east, north and south America, with her then husband David Dimbleby, plus spells in England with her grandmother and flat sharing in her twenties. The result is an unusual and eclectic mix and I defy anyone not to find at least half a dozen recipes which make it into their repertoire. How many of us can say that about every recipe book we've bought, believing each one would become an absolute stand-by?
From the very first recipe, Damascus garden salad sprinkled with scented rose petals (from the chapter A child in Damascus), I could smell every dish. Chicken Firuzabad (The road to Yazd) filled my flat with the aroma of cinnamon (my only quibble was the peculiar texture of whole almonds; I'll use flaked almonds next time – and there will be a next time). I've earmarked slow-cooked pork with pumpkin (A meeting in Rangoon), rich red quail curry (Forgotten cemeteries of the Raj), and oxtail with cider prunes and beans (First dishes from a basement flat).
If you prefer refinement to hearty nosh, there's chilled almond and garlic soup or Playa Blanca squid and sweet onions (both from The island of volcanoes), spiced carrot salad with mint (Snake charmers and the scent of orange blossom) or fish with avocado, lime and chilli (Potatoes in the Andes). The Golden Favourite, a creamy, yoghurty mix flavoured with cardamom and saffron, sprinkled with glistening pomegranate seeds and pistachios (Marble temples in the sky), is an easy to make glamorous pud.
It always helps if there are personal links with a book and it's not just that, having spent my early years in India, I was particularly captivated by the chapters on the subcontinent. Inside the covers is a photo (beautifully shot, as are they all, by Jason Lowe) of small, colourful clay figures depicting aspects of Indian life during the Raj. I, too, have a collection of these figures – far fewer and, sadly, more chipped and damaged than Josceline's – and they make me smile, just as these two photos make me smile.
And so does this exceptionally pretty and quietly entertaining book. Josceline writes in a simplistic and straightforward way but her unassuming approach allows the recipes to slip effortlessly into context, they and the recollections flattering each other.
This is a book to take not just on a journey but also to bed. Its comfortable meander through cities and civilisations (even those that bristle with the bustle of the bazaar) brings restful calm and its fabulous photographs (of places and plates) ensure you end your day with the softest images imaginable. But you'll want it by your sofa and in your kitchen, too.
{ISBN:9781844008483}