Garrett Oliver has gone where no man has gone before. He has formalised the world's most informal drink. The Oxford Companion to Beer is not a coffee table book or a gift idea for Uncle Kevin who loves his lager. This is a serious book about a serious business.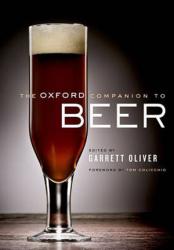 The most important alcoholic drink worldwide, the global beer market is worth nearly 500 billion dollars and over 150 billion litres were sold 2010.
It seems strange to have a book so thorough in scope and formal in style being dedicated something so common, so much a part of life. It's really odd to see beer analysed and classified in such a way. The Oxford Companion to Beer published by Oxford University Press, is the most comprehensive reference book about beer ever published. With 166 contributors, covering more than 1,100 subjects and many years in the making, this hefty brewer's book is about the understanding, classification, history and culture of beer and includes some never before documented practices and techniques like dry-hopping and cider brewing.
Laid out like a dictionary, all of the content is presented in alphabetical order, without further classification of subject or chronology. Accelerated batch fermentation appears directly after abbey beers. While the simplistic alphabetisation makes locating your term of query extremely easy and researching user friendly, it makes for pretty boring browsing. But then, it isn't a book for browsing, it is a book of reference, of study, of weight.
The style is direct and objective and downright scientific at times. There is a lot of chemistry involved in the brewing process. There are some wonderful annexes that cover the worldwide culture of beer including lists of clubs, festivals, publications and museums.
The Oxford Companion to Beer is perfect for the beer enthusiast or home brewer or even someone looking to complete their food reference collection. It answers pretty much every question you might have and then some.
The Oxford Companion to Beer is published by the Oxford University Press and is available at any good book store.
{ISBN:0195367138}