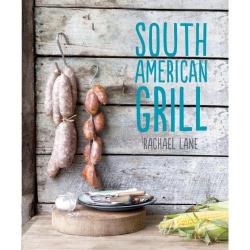 Melbourne based food writer Rachael Lane has authored and collaborated on cook books about everything from jelly and cupcakes to Asian cuisine and pressure cookers. Her latest effort, published by Hardie Grant, is called South American Grill.
From the opening double spread featuring a rack of raw lamb, to the various gratuitous meat shots through out, South American Grill is a meat-lover's paradise. It's also a great introduction to a relatively unknown and underrated cuisine. With simple recipes for snacks and appetizers right through to mains and a few desserts, South American Grill ushers the adventurous cook into a world where corn is king and a can of condensed milk goes a very long way.
Lane has kindly laid out meal plans and menus for a variety of get-togethers from family gatherings to Friday nights with the boys. She gives a brief introduction to the recipes explaining which region they come from and the English translation of each title. South American Grill is a good first step for anyone looking to expand their repertoire or recreate a churrasco-dining experience at home. South American cuisine uses familiar ingredients like cumin, garlic and chili in unfamiliar ways, resulting in intensely flavoured, fresh and spicy food.
The design and style team for this publication have given this characteristically rustic cuisine an urban makeover, giving it an air of city sophistication which will no doubt see this BBQ cook book adorning many metro coffee tables. The luxurious double page photo spreads, themed graphics and full page layouts of most recipes, make this book as much for the eye as for the stomach.
Got gas? We review a gas BBQ that's a cut above the rest