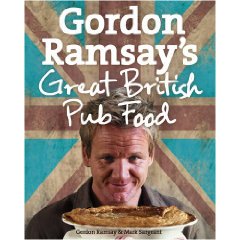 Every great General has his staff officers and Ramsay has his Sergeant. Together they set up the Gordon Ramsay pubs in London to produce simple and delicious British classics that meet a particular demand for the sort of food that comforts and satisfies in equal measure.
This is the book of the pub grub, packed full of classic British recipes that have stood the test of time and which don't need a massive amount of skill to create at home, just great ingredients and a love of cooking for family and friends. So here we have Bar Food such as homemade Pork Scratchings, classic Pork Pies and a Pint of Prawns with Mayonnaise. Savouries on toast have always had a home in the British psyche and here are treats like Creamed Haddock and pickled walnuts on toast, Welsh Rabbit (of course) and Anchovies on toast with spinach and a poached egg. Soups don't escape the Ramsay touch with classics like Cullen Sink and Cock a Leekie.
Crab cakes with mayo are a perfect no fuss starter, making use of one of our great seafoods and cod, increasingly a luxury fish, now benefits from a little more love than just batter and Gordon gives it clams and smoked bacon to lift it up a notch. Full on comfort food comes from recipes for Toad in the Hole, Pigs' liver faggots braised in ale, Lancashire hotpot and Braised neck of lamb with turnips. Weekend Roasts get a bit more ambitious, suggesting that Ramsay was running out of ordinary classics and stretching the definition a bit with Roast Grouse, Saddle of Venison and other dishes that are not on the normal Sunday menu at most peoples homes. With the puddings though, it's back on track with Apple Charlottes, Treacle Tart and Jam Roly Poly.
As recession makes us reconsider the place of classic, low cost cooking in the home repertoire this book with its tasty photographs means that far from being Pub food, these tempting dishes will make you eat in a lot more.
{ISBN:0007289820}