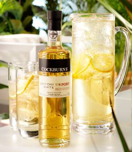 Entertaining friends outdoors is one of the joys of the Great British summer, so whatever the occasion make the most of it by serving a quintessentially English glass of Cockburn's port. With a style to complement every form of get-together, Cockburn's is sure to get your summer off to the perfect start.
Cockburn's has teamed up with Steve Bulmer, the co-owner and head chef at Brook Hall Cookery School (former chef and director of the Raymond Blanc Cookery School at La Manoir aux Quat' Saisons) to develop a series of Cockburn's inspired recipes to really impress your guests.
To evoke that summer sensation, start with a fresh and delicious summer cocktail. Cockburn's Light White Port & Tonic over ice with a slice of lemon is a zingy, dry, light and effervescent long drink with a refreshing citrus kick. Perfect as an aperitif to whet your guests' appetites or to accompany a refreshing and innovative starter such as Gazpacho with Avocado Granita. Cockburn's Light White is available in Sainsbury's, Morrisons and Somerfield. RRP £7.49 (50cl).
Cockburn's 10 Year Old Tawny makes an alternative choice when served chilled. Silky and delicate on the palate, yet crisp and lively, its long and lingering aftertaste will make an ideal match for a light summery meal of Stuffed Red Pepper with Cous Cous and Seeds. Cockburn's 10 Year Old Tawny is available in Sainsbury's. 50cl RRP £12.99.
For a sumptuous summer fruit salad to sweeten and refresh your guests try a twist on a classic red berry salad and serve Red Fruit Soup with Ruby Port Granita. Your guests will be so impressed with your innovative food and wine pairing skills, not to mention your cookery skills, that they will be begging for an invitation to your next celebration.
To perfect your cooking skills in a hands-on class, book onto a Brook Hall Seasonal Dinner Party course (sponsored by Cockburn's port) where chef Steve Bulmer will personally guide you through the recipes, imparting his expert hints and tips. www.brookhall.net.