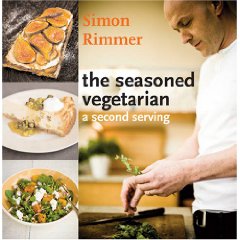 Some people are calling him the vegetarian Jamie Oliver which is a bit of an insult in my eyes – Simon is far better than that. The comparison comes from Simon's fondness for big flavours on a plate, no mincing about and a bit of chucking it in. His restaurant Greens is an award winning place and looking at and tasting these recipes you can see why. There's not a veggie cliché in sight and instead of browns and greys Simon uses a colour palette more akin to California than cold old England. Add to that his self-proclaimed 'magpie technique' and you find there are no national borders to his cuisine.
This food is in fact brilliant, I've been using the book for a few weeks at home and we love the textures, the flavours and the excitement of every dish. And we haven't missed the meat; in fact it's great to be free of the tyranny of sell- by dates. Instead we use our common sense and if by any chance we've let a veg get too old, then it isn't wasted it's simply popped into the compost bin.
Flatbread and Pea Pate has become a favourite – who would have guessed how easy flatbread is to make? The Potato, Leek and Smoked cheese pies we make in bulk so there is always a spare pie in the freezer or for a packed lunch. Glass Noodles with Radicchio and Ginger has marvellous crunch contrasting with the slippery noodles and the Baked Caerphilly Pies with Pecans are brilliant accompanied by some baby salad leaves.
We've yet to try Turmeric Roulade with Harissa Stew, the Mushroom and Mint Cannelloni or the Goats' cheese and Onion tart but they are definitely on the menu.
Of course most desserts are already veggie by default, but Simon still creates some real crackers with ideas like Chocolate and Hazelnut Meringue, a decadent Baked Alaska and a great Banoffee pie.
This is without doubt one of the best cookbooks I've seen this year and the fact that it is vegetarian is really irrelevant – these are simply lovely dishes that make you feel brighter and better and who can ask for more than that?
{ISBN:1845334256}