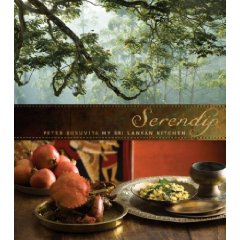 Sri Lanka drew Peter Kuruvita's father home. Originally born there, this expat dad of two boys fathered with his Austrian wife in England drove the family back overland in a battered minibus. Eleven countries, three ferries, and about 20,000 kilometres. Quite a journey at anytime, even more so back in 1968. Peter was then just four and a half years old.
Forty-one years later and Peter is a chef with a big global reputation. Now based in Sydney, he has written a book focussed on saving Sri Lankan traditional recipes, ones drawn from his own and other family kitchens and this beautiful book is the result.
It's a luxurious book in so many ways. The cover features a stitched band around it, the photography of food, people and places is sumptuous, it has one of those little red lace tags to help you mark a space and, of course, the recipes and stories are wonderful.
This is a book that you can happily curl up in a chair with for a good read, as well as take into the kitchen for a good cook. The tales Peter tells are a window into another world and culture, much of which has already changed in the short time between the 70s and now. Salvaging the stories and recipes has clearly been a labour of love for Peter and for anyone who loves the smells, tastes and excitement of Eastern cooking this book also brings things we are not likely to be familiar with.
Learn how to make Kiri Hodda (milk gravy boy) what Peter calls the 'béchamel sauce of Sri Lankan cookery, a base that so many dishes are built on. Savour the fish dishes that Sri Lankans do so well, such as Ambul Thial, a classic mixture of tuna, Goroka (a fruit that thickens sauces), black pepper, chilli and lime. There are recipes here for the yard long beans you often see in Asian grocers and wonder what to do with and even a cucumber curry, which sounds a fascinating mixture of fire and ice.
This is a journey through Serendip (Sri Lanka) by food. To peoples ' houses via markets and memories, taking in curries, street snacks, sticky desserts, celebration foods and family favourites. The recipes are easy to follow with handy tips when needed.
Rich with the flavours, sights and sounds of Sri Lanka, Serendip is a trip to an exotic destination still largely off the tourist map. This heartfelt and heart warming book should light a fire in everyone who loves a taste of the truly exotic.
Hardcover: 256 pages
Publisher: Murdoch Books (18 May 2009)
ISBN-10: 1741963648