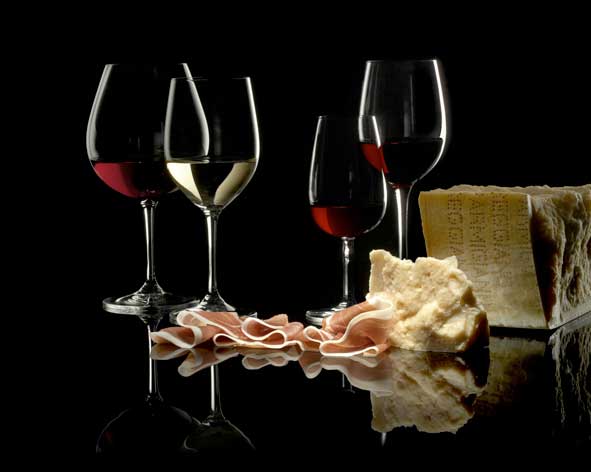 Food and drink campaign 'Discover the Origin' will be showcasing its five PDO*1 food and wine products – Parma Ham, Parmigiano-Reggiano cheese, Burgundy wines, Port and Douro Valley wines – at Taste of London from 18-21 June 2009 in Regent's Park at stand S7. So do come along and take part in a free masterclass.
Come and see the Discover the Origin team of experts at Taste of London and take up your place to learn more about these gastronomic delicaacies. There will be regular masterclasses throughout the day where you can sample and learn more about delicious Parmigiano-Reggiano cheese and Parma Ham from Parma and fine wines and Port from Burgundy and the Douro Valley regions. These masterclasses will set up enthusiastic foodies for inspired dinner parties and easy entertaining – as well as brighten up everyday meals at home with perfect wine matching ideas.
For those preferring to taste the products without joining a class, simply come to the stand and sample them. You will learn about food and wine matching and will have the opportunity to ask any burning questions to improve your gastro repertoire – and impress guests with your perfect wine pairing. Also try different ages of Parmigiano-Reggiano cheese and Parma Ham to find out how different vintages are best used for a range of dishes.
Taste of London is the capital's best loved foodie event, bringing together top chefs from premium restaurants to serve up their favourite dishes, alongside the finest producers of food and wine. Discover the Origin will have a major presence at the event.
'Taste of London takes its choice of exhibitors seriously and we're looking forward to being involved in this sell-out show. Our products – Parma Ham, Parmigiano-Reggiano cheese, Burgundy wines, Port and Douro Valley wines – all have PDO, AOC or DOC status giving them a guaranteed seal of quality and provenance. This festival will give thousands of people the opportunity to sample them for themselves," commented Paulo Pinto, Marketing Director, IVDP. 'We're hoping to inspire people to really think about where their food and drink comes from and how it is produced through our free masterclasses and tempting products to try throughout the event."
With assured quality and provenance due to their PDO status, the Discover the Origin products are affordable luxuries, making it easy to create a feast at home for a fraction of the cost of eating out. In fact, according to a recent survey by YouGov for Discover The Origin, more than two thirds of people in the UK* are now choosing to stay in and entertain at home rather than going out due to the economic downturn.
The EU and the professional bodies behind the products are backing Discover the Origin now to highlight these specific food and drink items that share the qualities of excellence, tradition, innovation and natural and fair production.
For more information on Discover the Origin and its presence at Taste of London, please go to www.discovertheorigin.co.uk
And for some great recipes using these gret products, just look here.