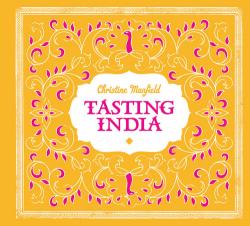 Do people still look through wallpaper sample books or do we all paint our walls now? I remember as a kid going with my parents to look at wallpaper and my dad and I having to work together to heave the enormous and heavy sample books up onto the counter. Once there we drooled over the range of 70s patterns in psychedelic colours and groovy patterns, enough to give you a nosebleed.
I was reminded of those books as I gave myself a hernia getting Tasting India up onto my desk. My it's a big book, full of recipes, glossy photos and travel stories of Aussie author Christine Mansfield's sojourns in the sub continent.
She's been everywhere, like a gap year traaaaaahvella on speed. Hardly a poppadum has been left unturned in her quest for authentic tastes and experiences. India is, of course, a staggering mixture of cuisines and styles of which we see only the tip of the iceberg over here and we can probably never fully experience even if we lived there for a hundred years. Mansfield gives it a good go, while admitting she hasn't yet been everywhere.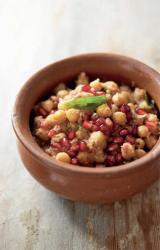 She looks for the original recipes; ones stored in the head of grandparents, invariably grandmothers. She squeezes street vendors for their secrets, she asks for the advice of restaurant chefs, she is herself a chef and this informs her writing. Naturally she is 'passionate', but then who isn't these days?
Over 250 recipes are included and presented clearly and understandably. Much of the book is also a travelogue too making it readable outside the kitchen. She writes about the people she meets and is honest about the aspects of India that can be off-putting to Westerners – the noise, the proximity of people, and the scenes that can be troubling if you don't share the culture.
While interesting and informative, her travel writing is often rather clichéd and she likes to use the present tense 'we duck down an alleyway to find..' which can soon become rather irritating in its attempt at immediacy. The photography is very good throughout; although it has that slight dissociation from reality that digital always seems to bring to any reportage.
Ah but the recipes are good. I don't think I turned a page without looking wistfully at a minimum of one or two. I suspect her Australian audience aren't quite as familiar with Indian cooking as we here in the UK are, so some recipes are old hat to us, but the majority are very tempting indeed. I particularly lapped up the chapter on Chettinad food, which is highly aromatic and doesn't feature much meat.
Nearly every ingredient is available in the UK, although few will be as vibrantly fresh as they are in India, and a glossary at the end explains everything. She also lists all the rather smart places she stayed, which cynically I assume means she stayed for free, and the restaurants she visited along with websites to match.
And this leads to a final point. We often hear that recipe books are dead and that everyone goes online to find recipes now. Well this book is a counter-argument to that, offering you something beyond mere information, but instead a tangible sensory experience too, a feast for the eyes, a tactile treat and something to curl up in a chair with. Just make sure it's a strong chair.
{ISBN:184091601X}