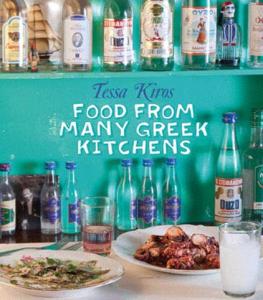 Tessa Kiros is herself a Greek-Cypriot, which makes her the ideal food writer to bring the authentic taste of Greece into our boring English kitchens. With a plethora of books under her belt, including the dreamily titled 'Falling Cloudberries' and the far-out sounding 'Piri-Piri Starfish', Food from Many Greek Kitchens is Tessa's first cookbook to focus solely on Greek cuisine.
Food from Many Greek Kitchens is divided into chapters including traditional food, baker's food, there and then food, ready cooked food and fasting food and contains over 115 different recipes, all of which take a no-fuss approach. You won't need any advanced cooking skills to create any of these dishes but you may need a bit of patience occasionally!
Top recipes to look out for include Octopus with Short Pasta from the fasting section, the quirky Lamb in a Flowerpot with Dill and Red Wine and simple Fried Red Mullet.
If you've got a sweet tooth you'll be pleased to see that Food from Many Greek Kitchens features not one, but several recipes for sumptuous looking Baklava. Baklava is of course the quintessentially Greek dessert made with phyllo pastry, ground nuts and lots and lots of sugar syrup. The Greeks serve it with coffee usually, but it's delicious anytime of day and will keep unrefrigerated for about a week- that's if you don't eat it all in one go!
As with all of Tessa Kiros' books Food from Many Greek Kitchens is stuffed full of gorgeous photography that shows not just the people, places and homes of Greece, but the spirit of the nation too. Food from Many Greek Kitchens doesn't feel like a regular straight cookbook it feels more like a mini odyssey, or at least a two week half term holiday on one of the Greek islands.
If you or someone you know is a fan of traditional Greek cooking but are also looking to expand their repertoire with laid back, low effort high taste dishes then Food from Many Greek Kitchens is well worth a look.
{ISBN:1741966841}