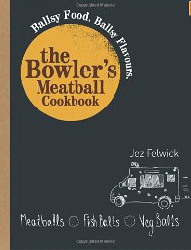 Isn't mince just magic? Doesn't need chewing and is so versatile. Use it in your spag bol or chile con carne, shape it into a burger, stuff it into peppers or roll it into balls.
The last option is the one Jez Felwick feels is best and considering he's done all right out of these balls, who can doubt him? His grass covered van, The Bowler, has been a stalwart of what people insist on calling the UK Food Truck Scene, bowling up at festivals and tweet fests all over the place. His hand made meatballs (and not just meat) have won a following from the sort of people who find burgers a bit too flat.
The big plus of meatballs of course is that you can add almost anything to mince to make it more interesting or, as Jez says in the rather annoying manner of Jamie, to'kick it up a level'. That makes experimenting so much easier and, as Jez sensibly recommends baking the results and not frying, it's food that anyone can make with a fair guarantee of success. Masterchef contestants would not break sweat here.
Jez recommends buying your own chuck steak and mincing it, and apart from wondering why he calls it chuck and not braising, you have to agree. You do need a machine though; Jez started with his mother's old hand mincer but anyone that's ever tried that knows you need a lot of muscle to get results and you end up with arms like Les Dawson's. Another tip, one of mine and not Jez's, is to stick the meat in the freezer for 30 minutes before mincing. It doesn't freeze but by solidifying the all-important fat a bit, the mincer has less chance of annoyingly clogging half way through. And given half a chance it will.
Vietnamese noodle soup with pork balls, beef and chorizo balls, balls made with a mix of pork, beef, breadcrumbs and loads of chili, green chili chicken balls, all kinds of fish balls such as Wasabi Salmon and Sesame fishball and even vegetable balls. There are balls here enough for anyone and everyone.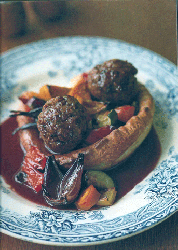 Of course you can't eat balls on their own so Jez has recipes for mayonnaises and sauces and for side dishes too, some of which – guacamole, tomato sauce etc. – you have probably made before but it's handy to have them in the same book. Salads, couscous and honey roasted vegetables rather fall into the same category. You can of course put your balls into buns, but they tend to roll out, so split a pitta and just ram your balls in.
And that is probably enough innuendo for one day. This meatball cookbook is a very useful addition to your cookbook armoury, especially if you plan to feed kids or 20 somethings, this is the kind of food they absolutely love. And to be fair it's not bad grub for the older generation either, particularly those whose teeth are no longer up to strenuous workouts.
This cookbook comes just in time because the mince bandwagon may be in danger of going into the slow lane, if not off into the breakdown lane, as bloggers finally threaten to get a bit bored with this kind of thing and move on to grilled chicken. It could stand as a monument- the definitive guide to making mince marvellous. No doubt Jez is planning his next move already; he has the wheels for it after all.
{ISBN:1845337492}