Rustic Indian Shahi Salmon Malai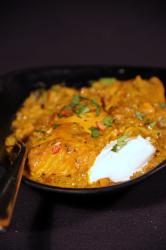 Serves 4
Ingredients:
2 tbsp rapeseed or olive oil
4 medium sized salmon steaks, cut in half
1 pack Rustic Indian Shahi Cook-In Sauce
1 cup coconut milk
Method:
Marinate the salmon steaks in half the Shahi Cook-In Sauce for up to an hour.
Heat the oil in a heavy-based sauté pan and lay the steaks out in a single layer.
Add the coconut milk and simmer on a low heat for 1 minute, being careful not to boil the milk.
Add remainder of Shahi Cook-In Sauce.
Cover and simmer for further 10-12 mins.
Serve with naan or Basmati rice and salad.
Rustic Indian Shahi Palak Paneer
Serves 4
Ingredients:
500-600g paneer block
2 tbsp vegetable or rapeseed oil
100g young leaf spinach
1 pack Rustic Indian Shahi Cook-In Sauce
2 tbsp good oil, rapeseed or olive oil
Method:
Cut paneer into small cubes.
In a heavy-based pan heat the oil.
Sauté paneer in the pan until golden on all sides.
Add Shahi Cook-In Sauce and baby spinach.
Cook until spinach has wilted.
Serve with Basmati rice, chapatti or naan.
Tip: For a great tasting toastie: lightly butter your bread, place in sandwich maker or toaster, add Shahi paneer and toast. 
For more information on Rustic Indian's range of cook-in sauces, visit www.rusticindian.com