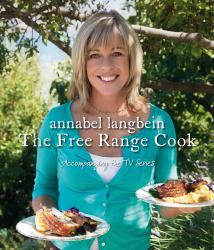 'No, not that one. Buy Annabel Langbein!" I was in New Zealand browsing through cookery books. My new-found cousin, a keen cook with food tastes similar to mine, was adamant. Annabel Langbein would give me the best introduction to New Zealand fusion food, and that was that.
It was just before Christmas. Not knowing whether any presents would come my way, or how heavy they would be, I couldn't buy. I resigned myself to tracking down The Free Range Cook as soon as I was home. Time passed. With numerous untried cookery books on groaning shelves, I couldn't justify another purchase.
And then Annabel Langbein came to London, launching The Free Range Cook in the penthouse of New Zealand House with its spectacular panoramic views over London.
The food was spectacular, too. Cookery book launches can be hit and miss. At one, the food was so scarce guests pressed themselves against the kitchen door, grabbing canapés as they came out. The author talked only to celebs. Surely, if you are launching a cookery book, the food should be generously plentiful and the author seen and heard? Our New Zealand hosts got it right; wine, nibbles and conversation flowed. Annabel worked hard to meet everyone.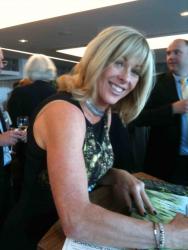 She joked that she sought 'world domination by spatula", using a global pantry of ingredients to bring people together around food. For her, the great thing about food, apart from the pleasure of taste, is that it connects us to nature, the environment and community – and to our creativity. 'You can have a crap day but coming home to cook turns your life around; it makes it the high point of the day," she said. It's also an opportunity for self-development and discovery. 'Don't be victims of an industrial food chain," she urged us, reminding us that we can grow herbs in the smallest pot in the smallest apartment.
Living in New Zealand countryside, Annabel grows much of what she eats, each meal inspired by whatever is in her garden. The Free Range Cook makes it easy for us to slip into her way of life, even if we are stuck in top floor flats without windowsills.
Sent home with a jar of her homemade chilli jam (scarlet red, vibrantly fresh with a ginger kick) I wondered how she used it. Chicken pieces, chilli jam, bake. Chop coriander, sprinkle, eat. Couldn't be easier; very satisfying. Make pots of this juicy chilli jam as thank-you-for-having-me presents.
With little time to potter in the kitchen, I tried her spicy casbah prawns. The chermoula marinade required no more effort than crushing garlic, chopping ginger, zesting lemons, opening jars of spices I already had, adding yoghurt and giving them a whiz. Fry prawns, add sauce, heat, serve.
Passing my local butcher, my eyes were drawn to plump lamb racks. Annabel acknowledges they are not cheap so her recipe takes the risk out of cooking them. Marinaded in salsa verde, cooked for 16 minutes, then rested well, the lamb was pink and succulent. Excellent with her bright green broad bean mash with parmesan.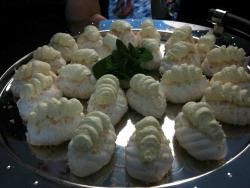 I've earmarked braised oxtail with star anise for winter and the coconut pavlovas with passion fruit for supper with friends (the two-bite versions work well at drinks parties – as we learned at the launch).
The Free Range Cook reflects the essence of New Zealand life: easy, relaxed, wholesome, fresh, warm-hearted, generous. The photos – of each dish and of Annabel as she forages, chops and stirs – are glorious. Getting lost in its 320 pages, then cooking from them, is the cheapest way to travel there.
£20 Octopus Books
{ISBN:1845336453}