Since I discovered the'Green Kitchen Stories' blog, I've been dropping lead-heavy hints to my similarly-minded demi-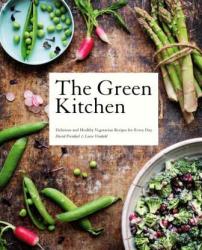 veggie mate about knocking me out David and Luise's spectacular'Raw Super-Infused Chocolate Layer Cake' as a birthday centrepiece. The pairs' new book,'The Green Kitchen', would have made an obvious and welcome present, but sadly, my friend, I've already procured it. You'll just have to think on.
I'm willing to make a loan, though, if it'll secure more sweet delights like'decadent beetroot and chocolate cake' for my greedy birthday tea. As long as I get it back devoid of neon-green hemp-powder fingerprints. Although, that's exactly the sort of slightly-mucky worthiness these authors advocate. The beauty of David and Luise's kitchen is that it treads a rare and delicate balance between preachy and practical.
Because, as they say, they're just a regular couple who had to get to grips with each other's dining habits; he the junk food lovin' vegetarian, she the conscientious, considerate carnivore. With compromise came creativity, and a happy embarking on a do-able diet that eschewed excess in terms of parsimony or piggery; but wholly embraced when it came to flavour, abundant variety, and sensory stimulation.
The colourful recipes are always veggie, sometimes vegan, and, from time to time, gluten-free. There's no pompous declaration or manifesto emblazoned across the front cover, just a quiet strapline that includes the words'vegetarian' and'healthy'. In contrast to so many of their peers, David and Luise take all the complexity out of'worthy' food, even where long lists of esoteric ingredients are concerned.
You don't feel they'd give you a dressing down for substituting sugar for a strange syrup, or slap your wrist if you licked the spoon. In fact, you feel that's exactly what they'd do themselves. They hold your hand, rather than grasp it in a vice-like grip. Often, they'll explain that a hearty, wholefood-y dish is actually the product of sheer laziness – like merely blitzing dates up into a raw'brownie' rather than baking a from-scratch batch.
In case you couldn't tell, I feel warmly towards these folk. All the more so for their'food crush' on India – an infatuation I wholeheartedly share. So recipes for rosehip lassi, hazelnut chai, spicy stews, and chickpea-flour pancakes that resemble Gujarati pudla all look pretty good to me… But then, so does everything else. Particularly nifty tricks like baking blitzed raw cauliflower into a crisp pizza crust. Yes, really.
Basics cover all the things you might have previously considered the preserve of hair-shirted types knitting their own muesli – yogurt, nut butter, oat milk, seed sprouts. But the way this pair spin it, you realise it's all so flippin' easy there's no excuse not to. A comprehensive glossary demystifies ingredients in similarly down-to-earth fashion, and in terms of photography and styling,'The Green Kitchen' is pretty darn slick.
In the wake of'Horsegate' it's inevitable many people will have a dalliance with vegetarianism, however short-lived. But, as David and Luise prove, it's really just more about mindful eating than mealy-mouthed moralising. In the long run, we should all be simply eating food that looks good, tastes good and might just do us good in the process. This pair have got it licked, and their book is one I'm up for taking a rather large leaf out of.