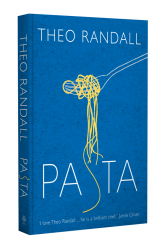 Pasta is a brand new cookbook from respected chef Theo Randall. It covers everything you need to know about the different types of pasta, how much to serve, how to make your own pasta and of course plenty of recipes. In fact there's over 110 pasta dishes to try your hand at.
The recipes in Pasta are divided into sections including tomatoes, fungi (that's mushrooms you pleb), fish, cheese, meat and interestingly poultry and game. This is actually very handy because it means you can pick and choose what you want to make based on what you've got in your fridge; got some cream you bought for an Eton Mess you never got round to making? Whack it in the Spaghetti Carbonara which only has 5 ingredients.
If a full fat dish of eggs, cream, pasta and pancetta is too much for your cholesterol levels to take, never fear because there's lots of healthy Mediterranean pasta dishes too. Ravioli with butternut squash, marjoram and sage and Tagliatelle with broad beans, fennel greens and pecorino both sound promising.
There's also an array of tomatoey sauce based recipes you can make for your kids to eat. The added bonus being that afterwards you can share your new recipes with friends, telling them of your culinary adventures with a pious ' you should really get more of your 5-a-day' face on!
It's hardly surprising that the Pasta cookbook is worth investing in considering the vast knowledge that chef Theo Randall has acquired over the years. He was head chef at the Michelin-starred River Cafe for 10 years and now runs his own restaurant at The InterContinental in Park Lane so what he's doesn't know about pasta just isn't worth knowing.
Even fellow foodie and all round household hit Jamie Oliver is singing the praises of Theo Randall's Pasta book and has said 'This is one of my favourite books of the year, and a must-have for any pasta lover. Theo's cooking is sublime."
{ISBN:0091929008}