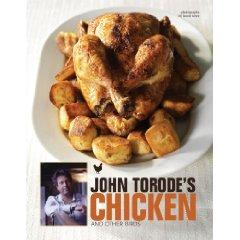 'John Torode's chicken'. Oh is he? He looks like a hard case to me, especially when he's yelling at that baldy bloke on Masterchef. Except baldy bloke isn't actually there, it's all shot separately to make it easier to join up the dots later in the way the producer wants. Believe me; I've been present at a filming.
Anyway, this is Torode's partner book to 'Beef' and a whole lot healthier. It's actually titled '.. and other birds' because, quite frankly, you'd be hard pushed to fill an entire book just on chickens. So pheasants, grouse, woodcock, snipe and other birds flap onto the pages, plus of course the rather more available duck.
It's a funny thing about chicken, but you will never see it on a fine dining tasting menu or even on the a la carte. Well, very rarely. Top chefs just don't think it's something they can serve at a high price. Maybe it's the fact that chicken is associated with fast food, deep fryers and street urchins, who knows? Maybe it's because so much chicken is produced by methods that would turn your stomach if you were to hear of them no one wants to eat it when out?
Well in my house chicken is pretty popular; it makes a nice curry, its lovely simply grilled and a roast chicken is a thing of beauty. We are talking free range, of course. It is quite reassuring that John doesn't lecture us about free range; he accepts it's nicer in all ways, but also accepts that some people can't afford it. They probably can't afford his book either, but we will let that oxymoron pass. Anyway, he's not giving us any New Labour/Jamie Oliver sanctimonious cant which is the main thing. Mind you, he is a blunt Aussie and probably thinks I've spelt 'cant' wrong.
Chicken is, as John points out, the most-consumed meat in the modern world. Easy to grow and easy to use, right down to the very last bit. Who hasn't made stock from the carcase? You haven't? Shame on you, it makes the best soups.
So here are a wealth of recipes for 'chooks' as our antipodean cousins call them, plus all the game birds too. My granny was a game bird, no recipe for her though. Starting with how to shop for and how to joint a chicken (saving you loads of money and no foam trays to fling out. Do they go into the recycle bag or not? No one seems to know). He begins with soups and stocks, then goes on to snacks and starters, then to legs and moves up to breasts, followed by salads, curries, barbecues and roasts. He even covers pies, tarts, pastries, pasta, noodles, grains and rice. And just as you're getting your breath back, it's confit, terrines, pates and pastramis. Believe me, there are enough ideas here for a flock. By the way did you know farmers have to slaughter all the geese flock at once or the ones that are left get depressed and won't eat? Pass the bread sauce, I'm filling up.
It's a great kitchen book, nothing restauaranty about it, just home cooking from across the continents, all in Torode's no nonsense style. The photos by Jason Lowe, who must be the only food photographer left in the world as he seems to have the market sewn up, is clean and clear and eschews the muddy style currently popular with Photoshop photographers. A book to feed the family day in and day out.
{ISBN:1844007154}