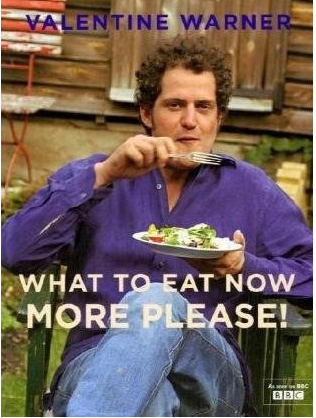 Have you seen Valentine on the telly? He's a bit hard to miss actually. When I first spotted him I thought my box had gone on the blink, as his head seemed disproportionally large for his body. I then discovered he is the son of Sir Frederick Archibald Warner, GCVO, KCMG ex Conservative MP and that his mother is the wonderfully named Simone Georgina de Ferranti. So it's probably genetic; like floppy fringes.
As is the way of things, after not doing as well as he hoped for as a portrait painter he became a chef of sorts, cooking privately for people like Yves Saint-Laurent and Gucci. At some point he was spotted by the BBC and The Guardian, both of whom have a weak spot for Valentine's type, and hey presto he had a very agreeable career as safely in the bag as the game he shoots on Dorset farms
The first TV series 'What to eat now' despite its rather patrician toned title did very well in North London and his Tiggerish enthusiasm won the hearts of many a young girl. The book that accompanied the series did equally well and so here is Valentine back for second helpings with 'What to eat now. More please' to accompany a new TV series due to air in July.
If you like this sort of thing, vicarious country dwelling with Notting Hill overtones, then you'll like it a great deal. The pictures are very nice that's for sure and the recipes while not exactly new, are presented winningly enough. Quite frankly if you've never come across Spaghetti Arrabiatta before then your culinary horizons must be as flat as Norfolk's.
Dotted about are Valentine's drawings which will receive a mixed critical reception I rather expect, as they are twee or charming depending on your mood. Also debatable is Valentine's writing style, which presupposes a familiarity with upper class pastimes. Going out to shoot the wildlife is referred to as an 'armed ramble' which has the sound of an old joke well bandied about in the better households. Valentine has little time for people not prepared to top their own food by the way, if you can't stab your own live lobster to death you wont' be invited back for the next weekend house party.
And yet it is a very attractive book and the 200 or so seasonal recipes have a cosy, old jumperish, feel that makes you lie back and think of England at its best. Val's keenness is not to be derided, it is clearly genuine, and the book is warm and approachable. Not quite as good as the first one, it seems to struggle to find a real raison d'etre, it is nonetheless a lot better book than most telly chefs can cook up.
{ISBN:1845334876}