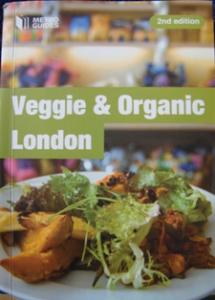 Metro Guides are designed to help the reader explore and discover new things in London. They cover such diverse subjects as bargain hunting, theatre, cemeteries, and, of course, eating and drinking, which is where we come in.
Recently revised and re-printed, the Veggie & Organic London guide, written and compiled by Russell Rose, is an authoritative guide to vegetarian and organic eating, drinking and more in London.
The bulk of the book is given to restaurant listings and reviews, all in London, split into North, West, South and East, then further divided by specific area. In all, 280 restaurants are listed, with full contact details, and a wealth of additional information, such as outdoor seating and vegan options, and in most cases, a full review of the food.
The number of listings is impressive, and Russell has clearly done his homework: we were surprised to see a listing for a cafe in our local area that we hadn't realised was there, and who knew that a Routemaster bus has been converted into a vegetarian restaurant in the East End? We certainly didn't, but it's now firmly on the 'to-do' list.
The reviews are thorough, and Russell clearly has a passion for his subject. The overall tone is positive and enthusiastic, and aimed not just vegetarians, but also designed to get more of us out there, eating good quality vegetarian, organic and raw food.
The book has sections covering vegetarian and organic shops, contact groups and cookery courses, a listing of London's farmers' markets, and more besides. The inclusion of a 'Hot List' is a nice touch, and is split into various categories, such as romantic, with-a-view, luxury and low budget. But even without the hot list, the lay-out of the guide makes it very easy to navigate.
Of course, any guide is out of date before the ink is dry, so we would always check a listing before going to a shop or restaurant, rather than just turning up on spec. That said, a lot of the restaurants in the guide are well-established, and of course, you can always add your own notes as you go along.
For us, the acid test of any listings book is whether it makes us keen to try something new. This guide certainly does that – the converted bus, of course – and for anybody looking to expand their experience of vegetarian, organic, or even raw food dining, at a price of £7.99 it will definitely be worth getting.
Phillip Azevedo