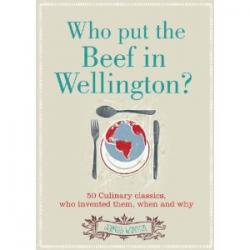 The etymology, or origin, of recipe names is a subject no one has ever really gone into before. Some names we know, such as Peach Melba and Eggs Benedict, but does Chicken Kiev really come from Kiev and who was Reuben of the famous sandwich?
James Winter is producer of Saturday Kitchen, for my money the only food programme worth watching. The mixture of'anything can happen' liveness, coupled with the sight of hung-over guests, and frequently equally hung-over chefs, trying to muster enthusiasm for wine and savoury dishes at 10 a.m. is a good one. Olly Smith is obviously completely unbearable, but otherwise it's an entertaining 90 minutes.
Much of this must be down to James Winter as much as James Martin and this, his second book, tends to confirm it. 50 culinary classics are examined, and come with a double page of the history of the dish and the recipes to cook them and there are certainly some fun stories to be told.
In the prohibition 1920s a man named Caesar Cardini opened a restaurant just across the Mexican border, his crafty move meant he could legally serve alcohol to parched Californians. Short of food one night, he made a show of serving at the table what little he found in the salad drawer, implying to guests that this was a very trendy thing indeed.
It worked and so now we have Caesar Salad. Signor Cardini was clearly years ahead of the current London food scene, the concept of selling nothing as something being all the rage here now.
Beef Carpaccio wasn't invented by a chef but by a barman who needed something chic and light to serve guests at the famous Harry's Bar in Venice. I could tell you more but that would spoil the surprises.
This a well produced book, printed on good stock and well illustrated and written. It's not nice obviosuly to mention the X word at this time of year (Xmas) but I'd drop some hints now if I were you. It's got to be better than getting another bloody Jamie Oliver book stuffed in your stocking.
{ISBN:0857830821}