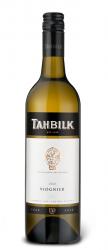 I have written about wines from Australia's First Families of wine before, but with Australia Day coming up it seemed appropriate to check out a few of their wines for those Aussies among us and those Aussiephiles who might just want to celebrate the day with some quality wines from this Australian collective of winemakers. Many of the wines from this collective can only be purchased at restaurants, but some are available more widely and I chose two, a Viognier and a red blend of Cabernet Sauvignon, Merlot, Petit Verdot and Cabernet Franc, that are available across the counter.
The first of these, the Tahbilk Viognier 2009, is an excellent wine. In the glass the Tahbilk Viognier has a crystal clear sparkling lemon yellow colour and as you bring it to your nose you get a warm deep body of rounded apricot with some citrus notes and just a hint of vanilla. This leads you to think that you are in for a big bold white with bags of body, but you'd be wrong. On the palate the apricot flavours come through as does a good citrusy tang. Yes the wine has some body, but it's still crisp and clean, with some sharpness and you get a tingle on the edge of your tongue as you wash it around your mouth. There's good length to it and you're left with a slight grapefruit aftertaste in your mouth. Clearly this is a wine that would go well with bolder fish like smoked salmon or white meat dishes in a creamy sauce.
You can find Tahbilk Viognier at Jreoboams wine merchants priced at £10.25

The other wine we tasted was d'Arenberg's The Galvo Garage 2006. As I said it's a blend of four grape varieties and in the glass it's an incredibly deep dark red, making you anticipate something rich and fruity. On the nose it has a fruity fragrance of cherry and blackberry, but there's a softness to it. As you drink the cherry and blackberry come through strongly, together with other red fruits, there is an acidity to it and a hint of vanilla, with a little peppery heat. This is a medium bodied wine that has a slight syrupiness on the tongue and there are some edgy tannins in its finish. After tasting it we had a glass with some medium rare rib eye steak with trimmings and the food completely softened the tannic edge leaving that lovely fruitiness, slight pepper and syrupy feel on the palate. Clearly great with red meat dishes this is a lovely wine that is worth looking out.
d'Arenberg's The Galvo Garage can be found at Majestic wines priced at £15.99
For more information about Tahbilk wines go to: www.tahbilk.co.au about d'Arenberg wines go to: www.darenberg.com.au and about Australia's First Families of Wine, go to: www.australiasfirstfamiliesofwine.com.au
To read my piece from the wine tasting in May last year click here