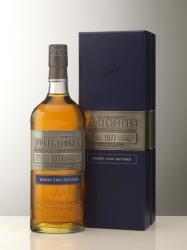 Auchentoshan from Glasgow is, we are told, Scotland's only triple distilled single malt whisky producer, with a history dating back to 1823. Auchentoshan has, over the years, developed a reputation for creating single malts with a smooth delicate flavour and they have recently launched two limited edition whiskies for enthusiast: the Auchentoshan 1977 and Auchentoshan 1998. We have tasted both.
Auchentoshan 1977 is a rare, non-chill filtered limited release. Only 240 bottles of this whisky, matured in European Oak Olorosso Sherry casks for thirty-two years, are in existence worldwide. Auchentoshan 1977 is pale gold in colour, quite appropriately, and is a smooth, medium-bodied lowland malt which has some subtle oaky notes on the nose together with peppery honey and heather. On the palate it has a sweet honey, a fine pepperyness and slight floral heather notes with a soft lingering woodiness in its finish. The whisky is displayed in a luxury blue outer carton that is gilded with a soft suede effect interior and the bottle has a brushed pewter label. This rare whisky understandably comes in with a rarified price tag priced of £370.
Auchentoshan 1998 is also non-chill filtered and has a limited release of just 6,000 bottles globally. Matured in Fino Sherry casks, which I am told is rarely used for maturation, it's a medium-bodied lowland single malt, similarly pale gold in colour. It gives you creamy caramelised sugar notes on the nose. On the palate it has a syrupy texture and its sweet creamy caramel and peppery heat comes through well on the tongue. It has good length on the palate and a hint of citrus and green apple in its finish. Similarly presented to the Auchotoshan 1977 this limited edition has a perhaps more affordable price tag of £44.99.
So, the question is whether to buy to savour or as a collector's item – I know which I would do!
The UK Distributor for these two fine whiskies are Cellar Trends www.cellartrends.co.uk and they can be reached on 01283 217703 or they by e-mail at enquiries@cellartrends.co.uk
You can find out more about Auchentoshan products at www.auchentoshan.co.uk