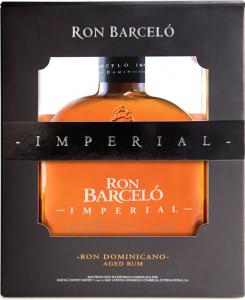 The Ron Barceló story dates back to 1929 when the Barceló family emigrated from Spain to the Dominican Republic, once there they set about building their dream of producing the best rum on the island. Three generations later the Barceló family are still producing excellent rum enjoyed around the globe with Spain and the Domincan Republic drinking it by the barrel full, selling more than 1.5 million cases last year.
Barceló Imperial was awarded the 'best rum in the world' in 2000 when it received the highest score in the history of the awards of the Beverage Testing Institute of Chicago. Barceló Imperial also qualified for the Authentic Caribbean Rum (ACR) Marque. This was developed by the West Indies Rum and Spirit Producers' Association, which serves as a visual symbol of provenance and heritage to help consumers recognise rums of exceptional quality.
Barceló Imperial is aged for up to 10 years in American oak barrels and the rum takes on a deep copper hue complimented by its rounded aromas of rich warm wood, with notes of treacle, Demerara sugar toffee and a slight spicy edge.
This 38% proof rum is warm, sweet tasting and has some peppery heat. There is some oakiness to it and the notes of treacle and Demerara come through on the palate together with buttery toffee and some vanilla hints. The Barceló Imperial has good body to it, there is a great mouth coating soft buttery texture to it and it has great length, leaving your mouth tasting those soft indulgent flavours for some while after swallowing. This is a drink to savour after an indulgent meal, or simply while enjoying a quiet night in watching the TV in front of a roaring fire.
Barceló Imperial Rum is an excellent sipping rum and would make a great Christmas gift for any rum drinker, but it would appeal to anyone who enjoys warm caressing after dinner drinks. So, you might just want to buy an extra bottle to have in the drinks cabinet to offer guests as an alternative to the usual brandies, Armagnacs and liqueurs this Christmas, it would certainly go down well and make a great after dinner treat.
Barceló Imperial can be purchased at Harvey Nichols, Peckham's (Scotland) and thedrinkshop.com, at around £27.95 for a bottle